EURO: The denomination of the so-called single currency that is designed to integrate economic and monetary policies for the European Union. The euro will contain paper currency (banknotes) and metal coins and will replace the European Currency Unit that is presently used for commercial and financial transactions. While that plans are to introduce this single currency with paper and coins in 2002, no one knows for sure if the euro will completely replace national currencies (British pound, French franc, etc.) for transactions within each nation. The paper currency will come in denominations of 5, 10, 20, 50, 100, 200, and 500 euros and the metal coins will come in denominations of 1, 2, 5, 10, 20, and 50 cents, as well as 1 euro and 2 euros.




























AVERAGE FACTOR COST CURVE, PERFECT COMPETITION:
A curve that graphically represents the relation between average factor cost incurred by a perfectly competitive firm for employing an input and the quantity of input used. Because average factor cost is essentially the price of the input, the average factor cost curve is also the supply curve for the input. The average factor cost curve for a perfectly competitive firm with no market control is horizontal. The average revenue curve for a firm with market control is positively sloped.
Perfect competition is a market structure with a large number of small participants (buyers and sellers). The good exchanged in the market is identical, regardless of who sells or who buys. Participants have perfect knowledge and perfect mobility into and out of the market. These conditions mean perfectly competitive buyers are price takers, they have no market control and must pay the going market price for all inputs bought.

The average factor cost curve reflects the degree of market control held by a firm. For a perfectly competitive firm with no market control, the average factor cost curve is a horizontal line. For firms with market control, especially monopsony, the average factor cost curve is positively sloped.

Average Factor Cost Curve,
Perfect Competition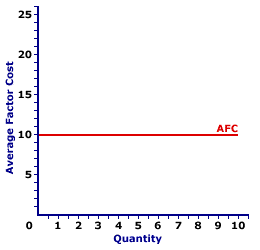 A typical average factor cost for perfect competition is displayed in the exhibit to the right. This particular average factor cost curve is that for labor hired by Maggie's Macrame Shoppe. Maggie's Macrame Shoppe is one of thousands of small retail stores in the greater Shady Valley metropolitan area that hires labor with identical skills. As such, Maggie pays the going wage for labor.

The vertical axis measures average factor cost and the horizontal axis measures the quantity of input (workers). Although quantity on this particular graph stops at 10 workers, the nature of perfect competition indicates it could easily go higher.

First and foremost, the average factor cost curve is horizontal at the going factor price of $10. This indicates that if Maggie hires 1 worker, then she pays an average factor cost of $10. Alternatively, if she hires 10 workers, then she pays an average factor cost of $10. Should she hire 100 workers, then she might move well beyond the graph, but she pays an average factor cost of $10.

The "curve" is actually a "straight line" because Maggie is a price taker in the labor market. She pays $10 for each worker whether she hires 1 worker or 10 workers or 100 workers. The constant price is what makes Maggie's average factor cost curve a straight line, and which indicates that Maggie has no market control.




---
Recommended Citation:

AVERAGE FACTOR COST CURVE, PERFECT COMPETITION, AmosWEB Encyclonomic WEB*pedia, http://www.AmosWEB.com, AmosWEB LLC, 2000-2018. [Accessed: October 18, 2018].
---
Check Out These Related Terms...

| | | | | | | | | | |
---
Or For A Little Background...

| | | | | | | | | | | |
---
And For Further Study...

| | | | | | | | |
---
Search Again?


BROWN PRAGMATOX
[What's This?]
Today, you are likely to spend a great deal of time browsing about a thrift store hoping to buy either software that won't crash your computer or any book written by Stephan King. Be on the lookout for jovial bank tellers.
Your Complete Scope

The first "Black Friday" on record, a friday marked by a major financial catastrophe, occurred on September 24, 1869 -- A FRIDAY -- when an attempted cornering of the gold market induced a financial crises and economy-wide depression.

"Executives who get there and stay suggest solutions when they present the problems. "

-- Malcolm Forbes, business executive

AEC
Annual Equivalent Costs

Tell us what you think about AmosWEB. Like what you see? Have suggestions for improvements? Let us know. Click the User Feedback link.