CHECK CLEARING: The process in which reserves or funds are transferred among banks to settle the accounts of checks written on one account and deposited into another. Check clearing is the heart and sole of daily banking activity and the final step in the use of checkable deposits as the medium of exchange for conducting transactions in the economy. Check clearing is facilitated by central clearinghouses, including the Federal Reserve System and a number of private organizations. The check clearing process is also a key component of the money creation process.




























BUYERS' MARKET:
A disequilibrium condition in a competitive market that has a surplus or excess supply. Because the quantity supplied is greater than the quantity demanded, buyers have the "upper hand" when negotiating. A market surplus also goes by the more common term of buyers' market. The alternative to a buyers' market is a sellers' market, which has a shortage or excess demand.
A buyers' market exists because the quantity supplied by the sellers exceeds the quantity demanded by the buyers... at a given market price. In this situation, sellers are seeking to sell more of the good than buyers are willing to buy, hence buyers can pick and choose the goods purchased from the sellers. Sellers are lucky to find someone willing and able to purchase their good.

Buyers' Market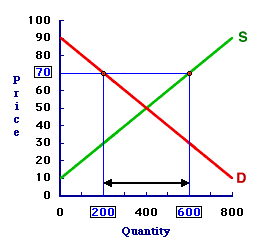 A buyers' market is illustrated by the market for 8-track tapes displayed in this exhibit. This graph was generated with data from the 88th Annual Trackmania 8-Track Tape Collectors Convention at the Shady Valley Exposition Center.

At the existing market price of 70 cents, buyers have the "upper hand" in this market due to the excess supply of 8-track tapes. This surplus is indicated as the difference between the quantity supplied and the quantity demanded at the designated market price. In particular, the 70-cent price generates a quantity supplied of 600 tapes and a quantity demanded of 200 tapes. Sellers are willing and able to sell 400 tapes more than buyers are willing and able to buy. This excess supply of 400 tapes is what gives the buyers the upper hand.

Note that a buyers' market does not mean the lack of competition among demanders have given some buyers market control. A buyers' market is a competitive market that simply has a temporary imbalance between the quantity demanded by the buyers and the quantity supplied by the sellers. A change in the market price eliminates the buyers' market, and could possibly even create a sellers' market.




---
Recommended Citation:

BUYERS' MARKET, AmosWEB Encyclonomic WEB*pedia, http://www.AmosWEB.com, AmosWEB LLC, 2000-2023. [Accessed: November 30, 2023].
---
Check Out These Related Terms...

| | | | | | |
---
Or For A Little Background...

| | | | | | | | | |
---
And For Further Study...

| | | | | | | |
---
Search Again?


RED AGGRESSERINE
[What's This?]
Today, you are likely to spend a great deal of time looking for a downtown retail store seeking to buy either a tall storage cabinet with five shelves and a secure lock or a birthday greeting card for your grandmother. Be on the lookout for broken fingernail clippers.
Your Complete Scope

A half gallon milk jug holds about $50 in pennies.

"Consult not your fears, but your hopes and your dreams. Think not about your frustrations, but about your unfulfilled potential. Concern yourself not with what you tried and failed in, but with what it is still possible for you to do. "

-- Pope John XXIII

SFA
Securities and Futures Authority (UK)

Tell us what you think about AmosWEB. Like what you see? Have suggestions for improvements? Let us know. Click the User Feedback link.