PATERNALISM: A fundamental philosophical viewpoint that the private sector (households and businesses) needs to be watched over--like a parent--by the public sector (government). In other words, members of society need to be watched over, cared for, and kept out of trouble, like parents watch over, care for, and keep their children out of trouble. This philosophy of paternalism should be contrasted directly with the philosophy of laissez faire, which essentially says "Hey, we're all grown ups here, we can make our own decisions."




























EXCESS SUPPLY:
A disequilibrium condition in a competitive market in which the quantity supplied is greater than the quantity demanded. Excess supply is another way to say surplus. It also goes by the common term of buyers' market. Excess supply is one of two disequilibrium states of the market. The other is excess demand (or shortage).
Excess supply emerges in a market when the quantity supplied by the sellers exceeds the quantity demanded by the buyers... at a given market price. Sellers are seeking to sell more of the good than buyers are willing to buy, hence there is an "extra" or "excess" amount of supply.

Excess Supply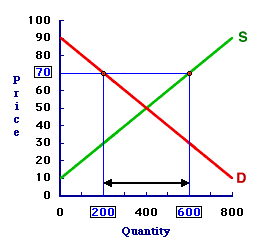 Excess supply is illustrated using the market for 8-track tapes displayed in this exhibit. This graph was generated with data from the 88th Annual Trackmania 8-Track Tape Collectors Convention at the Shady Valley Exposition Center.

The excess supply for 8-track tapes is indicated as the difference between the quantity supplied and the quantity demanded at a specific market price. In particular, at a 70-cent price, the quantity supplied is 600 tapes and the quantity demanded is 200 tapes. Sellers are willing and able to sell 400 tapes more than buyers are willing and able to buy. Hence this market has an excess supply of 400 tapes.

The result of this excess supply is a decrease in the market price. Because sellers are unable to sell as much of the good as they want, they are inclined to bid down the price. Of course, as the price falls, the quantity demanded increases and the quantity supplied decreases, both acting to reduce the amount of the excess supply. Ultimately the entire excess supply is eliminated and equilibrium is restored.




---
Recommended Citation:

EXCESS SUPPLY, AmosWEB Encyclonomic WEB*pedia, http://www.AmosWEB.com, AmosWEB LLC, 2000-2019. [Accessed: September 20, 2019].
---
Check Out These Related Terms...

| | | | | | | |
---
Or For A Little Background...

| | | | | | | | | |
---
And For Further Study...

| | | | | | | |
---
Search Again?


WHITE GULLIBON
[What's This?]
Today, you are likely to spend a great deal of time browsing about a thrift store looking to buy either a weathervane with a horse on top or a case of blank recordable DVDs. Be on the lookout for spoiled cheese hiding under your bed hatching conspiracies against humanity.
Your Complete Scope

Lewis Carroll, the author of Alice in Wonderland, was the pseudonym of Charles Dodgson, an accomplished mathematician and economist.

"No amount of business school training or work experience can teach what is ultimately a matter of personal character. "

-- Truett Cathy, Chick-fil-A Inc. founder

JEP
Journal of Economic Perspectives

Tell us what you think about AmosWEB. Like what you see? Have suggestions for improvements? Let us know. Click the User Feedback link.