PHYSICAL WEALTH: The ownership of productive resources, capital, and property and satisfaction-generating goods. Also termed real wealth. This should be contrasted with financial wealth that is based on ownership of financial or paper assets.




























EXCESS DEMAND:
A disequilibrium condition in a competitive market in which the quantity demanded is greater than the quantity supplied. Excess demand is another way to say shortage. It also goes by the common term of sellers' market. Excess demand is one of two disequilibrium states of the market. The other is excess supply (or surplus).
Excess demand emerges in a market when the quantity demanded by the buyers exceeds the quantity supplied by the sellers... at a given market price. Buyers are seeking to buy more of the good than sellers are willing to sell, hence there is an "extra" or "excess" amount of demand.

Excess Demand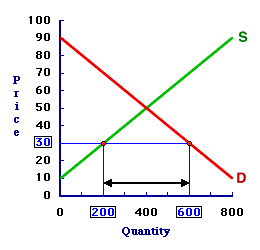 Excess demand is illustrated using the market for 8-track tapes displayed in this exhibit. This graph was generated with data from the 88th Annual Trackmania 8-Track Tape Collectors Convention at the Shady Valley Exposition Center.

The excess demand for 8-track tapes is indicated as the difference between the quantity demanded and the quantity supplied at a specific market price. In particular, at a 30-cent price, the quantity demanded is 600 tapes and the quantity supplied is 200 tapes. Buyers are willing and able to purchase 400 tapes more than sellers are willing and able to sell. Hence this market has an excess demand of 400 tapes.

The result of this excess demand is an increase in the market price. Because buyers are unable to buy as much of the good as they want, they are inclined to bid up the price. Of course, as the price rises, the quantity supplied increases and the quantity demanded decreases, both acting to reduce the amount of the excess demand. Ultimately the entire excess demand is eliminated and equilibrium is restored.




---
Recommended Citation:

EXCESS DEMAND, AmosWEB Encyclonomic WEB*pedia, http://www.AmosWEB.com, AmosWEB LLC, 2000-2018. [Accessed: January 22, 2018].
---
Check Out These Related Terms...

| | | | | | | |
---
Or For A Little Background...

| | | | | | | | | |
---
And For Further Study...

| | | | | | | |
---
Search Again?


BLUE PLACIDOLA
[What's This?]
Today, you are likely to spend a great deal of time at a going out of business sale trying to buy either looseleaf notebook paper or a three-hole paper punch. Be on the lookout for pencil sharpeners with an attitude.
Your Complete Scope

Junk bonds are so called because they have a better than 50% chance of default, carrying a Standard & Poor's rating of CC or lower.

"Now is the only time there is. Make your now wow, your minutes miracles, and your days pay. Your life will have been magnificently lived and invested, and when you die you will have made a difference."

-- Mark Victor Hansen

CME
Chicago Mercantile Exchange

Tell us what you think about AmosWEB. Like what you see? Have suggestions for improvements? Let us know. Click the User Feedback link.