ABSTRACTION: Simplifying the complexities of the real world by ignoring (hopefully) unimportant details while doing economic analysis. Abstraction is often criticized because it's, well, it's JUST NOT REALISTIC. However, when done correctly (ignoring things that JUST DON'T MATTER), then the pursuit of knowledge is greatly enhanced by abstraction. For example, when travelling cross country along a high-speed interstate highway, a paper road map is a handy tool. It shows towns and cities along the way, the major intersections, rest stop locations, and other important points of interest. However, it ignores unimportant details. It doesn't realistically show the location of every tree, bush, or blade of grass. Why bother? This information won't enhance your road trip.




























BUYERS' MARKET:
A disequilibrium condition in a competitive market that has a surplus or excess supply. Because the quantity supplied is greater than the quantity demanded, buyers have the "upper hand" when negotiating. A market surplus also goes by the more common term of buyers' market. The alternative to a buyers' market is a sellers' market, which has a shortage or excess demand.
A buyers' market exists because the quantity supplied by the sellers exceeds the quantity demanded by the buyers... at a given market price. In this situation, sellers are seeking to sell more of the good than buyers are willing to buy, hence buyers can pick and choose the goods purchased from the sellers. Sellers are lucky to find someone willing and able to purchase their good.

Buyers' Market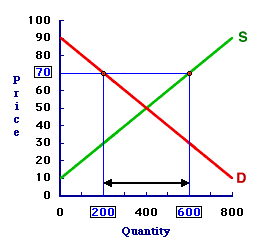 A buyers' market is illustrated by the market for 8-track tapes displayed in this exhibit. This graph was generated with data from the 88th Annual Trackmania 8-Track Tape Collectors Convention at the Shady Valley Exposition Center.

At the existing market price of 70 cents, buyers have the "upper hand" in this market due to the excess supply of 8-track tapes. This surplus is indicated as the difference between the quantity supplied and the quantity demanded at the designated market price. In particular, the 70-cent price generates a quantity supplied of 600 tapes and a quantity demanded of 200 tapes. Sellers are willing and able to sell 400 tapes more than buyers are willing and able to buy. This excess supply of 400 tapes is what gives the buyers the upper hand.

Note that a buyers' market does not mean the lack of competition among demanders have given some buyers market control. A buyers' market is a competitive market that simply has a temporary imbalance between the quantity demanded by the buyers and the quantity supplied by the sellers. A change in the market price eliminates the buyers' market, and could possibly even create a sellers' market.




---
Recommended Citation:

BUYERS' MARKET, AmosWEB Encyclonomic WEB*pedia, http://www.AmosWEB.com, AmosWEB LLC, 2000-2020. [Accessed: February 22, 2020].
---
Check Out These Related Terms...

| | | | | | |
---
Or For A Little Background...

| | | | | | | | | |
---
And For Further Study...

| | | | | | | |
---
Search Again?


BROWN PRAGMATOX
[What's This?]
Today, you are likely to spend a great deal of time watching the shopping channel seeking to buy either a T-shirt commemorating the first day of spring or a coffee cup commemorating last Friday (you know why). Be on the lookout for the last item on a shelf.
Your Complete Scope

There were no banks in colonial America before the U.S. Revolutionary War. Anyone seeking a loan did so from another individual.

"Be willing to have it so. Acceptance of what has happened is the first step to overcoming the consequences of any misfortune."

-- William James, Psychologist

OSHA
Occupational Safety and Health Administration

Tell us what you think about AmosWEB. Like what you see? Have suggestions for improvements? Let us know. Click the User Feedback link.