PARETO EFFICIENCY: A type of efficiency that results if one person can not be made better off without making someone else worse off. Named after Vilfredo Pareto, this criterion is the guiding theoretical notion of efficiency used in the study of economics, especially welfare economics. Pareto efficiency is generally not attained if some resources are idle or unemployed. By engaging idle resources in production, some people can have more production without reducing that available to others. A problem with Pareto efficiency, however, is that it is based on the existing distribution of income and wealth. This is one of two noted efficiency criteria used in economics. The other is Kaldor-Hicks efficiency.




























BUYERS' MARKET:
A disequilibrium condition in a competitive market that has a surplus or excess supply. Because the quantity supplied is greater than the quantity demanded, buyers have the "upper hand" when negotiating. A market surplus also goes by the more common term of buyers' market. The alternative to a buyers' market is a sellers' market, which has a shortage or excess demand.
A buyers' market exists because the quantity supplied by the sellers exceeds the quantity demanded by the buyers... at a given market price. In this situation, sellers are seeking to sell more of the good than buyers are willing to buy, hence buyers can pick and choose the goods purchased from the sellers. Sellers are lucky to find someone willing and able to purchase their good.

Buyers' Market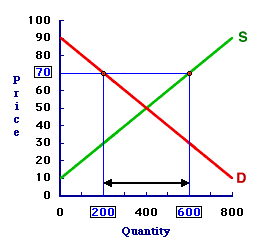 A buyers' market is illustrated by the market for 8-track tapes displayed in this exhibit. This graph was generated with data from the 88th Annual Trackmania 8-Track Tape Collectors Convention at the Shady Valley Exposition Center.

At the existing market price of 70 cents, buyers have the "upper hand" in this market due to the excess supply of 8-track tapes. This surplus is indicated as the difference between the quantity supplied and the quantity demanded at the designated market price. In particular, the 70-cent price generates a quantity supplied of 600 tapes and a quantity demanded of 200 tapes. Sellers are willing and able to sell 400 tapes more than buyers are willing and able to buy. This excess supply of 400 tapes is what gives the buyers the upper hand.

Note that a buyers' market does not mean the lack of competition among demanders have given some buyers market control. A buyers' market is a competitive market that simply has a temporary imbalance between the quantity demanded by the buyers and the quantity supplied by the sellers. A change in the market price eliminates the buyers' market, and could possibly even create a sellers' market.




---
Recommended Citation:

BUYERS' MARKET, AmosWEB Encyclonomic WEB*pedia, http://www.AmosWEB.com, AmosWEB LLC, 2000-2020. [Accessed: April 5, 2020].
---
Check Out These Related Terms...

| | | | | | |
---
Or For A Little Background...

| | | | | | | | | |
---
And For Further Study...

| | | | | | | |
---
Search Again?


BROWN PRAGMATOX
[What's This?]
Today, you are likely to spend a great deal of time searching the newspaper want ads wanting to buy either semi-gloss photo paper that works with your neighbor's printer or a birthday gift for your father that doesn't look like every other birthday gift for your father. Be on the lookout for infected paper cuts.
Your Complete Scope

The earliest known use of paper currency was about 1270 in China during the rule of Kubla Khan.

"The time your game is most vulnerable is when you're ahead; never let up. "

-- Rod Laver, Tennis player

LF
Labor Force, Laissez-Faire

Tell us what you think about AmosWEB. Like what you see? Have suggestions for improvements? Let us know. Click the User Feedback link.