LONG-RUN AVERAGE COST: The per unit cost of producing a good or service in the long run when all inputs are variable. In other words, long-run total cost divided by the quantity of output produced. Long-run average cost is based on economies of scale (or increasing returns to scale) and diseconomies of scale (or decreasing returns to scale).




























BUYERS' MARKET:
A disequilibrium condition in a competitive market that has a surplus or excess supply. Because the quantity supplied is greater than the quantity demanded, buyers have the "upper hand" when negotiating. A market surplus also goes by the more common term of buyers' market. The alternative to a buyers' market is a sellers' market, which has a shortage or excess demand.
A buyers' market exists because the quantity supplied by the sellers exceeds the quantity demanded by the buyers... at a given market price. In this situation, sellers are seeking to sell more of the good than buyers are willing to buy, hence buyers can pick and choose the goods purchased from the sellers. Sellers are lucky to find someone willing and able to purchase their good.

Buyers' Market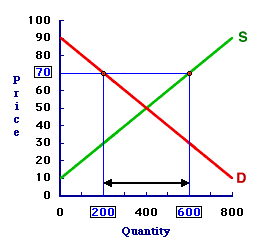 A buyers' market is illustrated by the market for 8-track tapes displayed in this exhibit. This graph was generated with data from the 88th Annual Trackmania 8-Track Tape Collectors Convention at the Shady Valley Exposition Center.

At the existing market price of 70 cents, buyers have the "upper hand" in this market due to the excess supply of 8-track tapes. This surplus is indicated as the difference between the quantity supplied and the quantity demanded at the designated market price. In particular, the 70-cent price generates a quantity supplied of 600 tapes and a quantity demanded of 200 tapes. Sellers are willing and able to sell 400 tapes more than buyers are willing and able to buy. This excess supply of 400 tapes is what gives the buyers the upper hand.

Note that a buyers' market does not mean the lack of competition among demanders have given some buyers market control. A buyers' market is a competitive market that simply has a temporary imbalance between the quantity demanded by the buyers and the quantity supplied by the sellers. A change in the market price eliminates the buyers' market, and could possibly even create a sellers' market.




---
Recommended Citation:

BUYERS' MARKET, AmosWEB Encyclonomic WEB*pedia, http://www.AmosWEB.com, AmosWEB LLC, 2000-2018. [Accessed: April 24, 2018].
---
Check Out These Related Terms...

| | | | | | |
---
Or For A Little Background...

| | | | | | | | | |
---
And For Further Study...

| | | | | | | |
---
Search Again?


BEIGE MUNDORTLE
[What's This?]
Today, you are likely to spend a great deal of time looking for a downtown retail store hoping to buy either a wall poster commemorating the 2000 Olympics or a flower arrangement with a lot of roses for your grandmother. Be on the lookout for door-to-door salesmen.
Your Complete Scope

The portrait on the quarter is a more accurate likeness of George Washington than that on the dollar bill.

"You have to find something that you love enough to be able to take risks, jump over the hurdles and break through the brick walls that are always going to be placed in front of you. If you don't have that kind of feeling for what it is you're doing, you'll stop at the first giant hurdle. "

-- George Lucas

AV
Actual Value

Tell us what you think about AmosWEB. Like what you see? Have suggestions for improvements? Let us know. Click the User Feedback link.