EFFICIENT SEARCH, DETERMINANTS: Two factors that affect information search are (1) the amount of purchase and (2) frequency of purchase. Goods that are relatively expensive increase the potential benefit of search. For example, saving 10 percent on the purchase price of a house is significantly more than saving 10 percent on the price of bar of soap. Buyers are thus likely to undertake extensive search when buying a house, but not for soap. Goods that are purchased more frequently also don't require extensive search activities. Since buyers already know the "best places" to buy the "highest quality" products at the "lowest prices" for frequently purchased goods, little can be gained from search.




























EXCESS SUPPLY:
A disequilibrium condition in a competitive market in which the quantity supplied is greater than the quantity demanded. Excess supply is another way to say surplus. It also goes by the common term of buyers' market. Excess supply is one of two disequilibrium states of the market. The other is excess demand (or shortage).
Excess supply emerges in a market when the quantity supplied by the sellers exceeds the quantity demanded by the buyers... at a given market price. Sellers are seeking to sell more of the good than buyers are willing to buy, hence there is an "extra" or "excess" amount of supply.

Excess Supply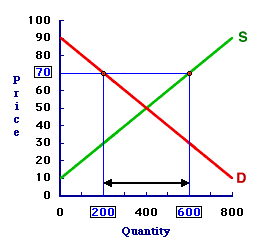 Excess supply is illustrated using the market for 8-track tapes displayed in this exhibit. This graph was generated with data from the 88th Annual Trackmania 8-Track Tape Collectors Convention at the Shady Valley Exposition Center.

The excess supply for 8-track tapes is indicated as the difference between the quantity supplied and the quantity demanded at a specific market price. In particular, at a 70-cent price, the quantity supplied is 600 tapes and the quantity demanded is 200 tapes. Sellers are willing and able to sell 400 tapes more than buyers are willing and able to buy. Hence this market has an excess supply of 400 tapes.

The result of this excess supply is a decrease in the market price. Because sellers are unable to sell as much of the good as they want, they are inclined to bid down the price. Of course, as the price falls, the quantity demanded increases and the quantity supplied decreases, both acting to reduce the amount of the excess supply. Ultimately the entire excess supply is eliminated and equilibrium is restored.




---
Recommended Citation:

EXCESS SUPPLY, AmosWEB Encyclonomic WEB*pedia, http://www.AmosWEB.com, AmosWEB LLC, 2000-2018. [Accessed: January 17, 2018].
---
Check Out These Related Terms...

| | | | | | | |
---
Or For A Little Background...

| | | | | | | | | |
---
And For Further Study...

| | | | | | | |
---
Search Again?


WHITE GULLIBON
[What's This?]
Today, you are likely to spend a great deal of time wandering around the shopping mall seeking to buy either a looseleaf notebook binder or hand lotion, a big bottle of hand lotion. Be on the lookout for deranged pelicans.
Your Complete Scope

The earliest known use of paper currency was about 1270 in China during the rule of Kubla Khan.

"Being defeated is only a temporary condition; giving up is what makes it permanent."

-- Marilyn vos Savant, Author

LRMC
Long Run Marginal Cost

Tell us what you think about AmosWEB. Like what you see? Have suggestions for improvements? Let us know. Click the User Feedback link.