SATISFACTION: The process of successfully fulfilling wants and needs. A basic fact of life is that people want and need stuff to stay alive and to make that life more enjoyable. Satisfaction is the economic term that captures this wants-and-needs-fulfilling process. Satisfying wants and needs is actually the ultimate goal of economic activity, the end result of addressing the fundamental problem of scarcity, and, when you get right down to it, life itself.




























EXCESS SUPPLY:
A disequilibrium condition in a competitive market in which the quantity supplied is greater than the quantity demanded. Excess supply is another way to say surplus. It also goes by the common term of buyers' market. Excess supply is one of two disequilibrium states of the market. The other is excess demand (or shortage).
Excess supply emerges in a market when the quantity supplied by the sellers exceeds the quantity demanded by the buyers... at a given market price. Sellers are seeking to sell more of the good than buyers are willing to buy, hence there is an "extra" or "excess" amount of supply.

Excess Supply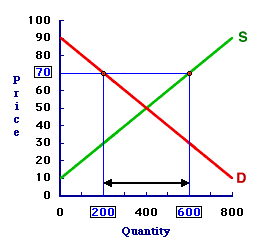 Excess supply is illustrated using the market for 8-track tapes displayed in this exhibit. This graph was generated with data from the 88th Annual Trackmania 8-Track Tape Collectors Convention at the Shady Valley Exposition Center.

The excess supply for 8-track tapes is indicated as the difference between the quantity supplied and the quantity demanded at a specific market price. In particular, at a 70-cent price, the quantity supplied is 600 tapes and the quantity demanded is 200 tapes. Sellers are willing and able to sell 400 tapes more than buyers are willing and able to buy. Hence this market has an excess supply of 400 tapes.

The result of this excess supply is a decrease in the market price. Because sellers are unable to sell as much of the good as they want, they are inclined to bid down the price. Of course, as the price falls, the quantity demanded increases and the quantity supplied decreases, both acting to reduce the amount of the excess supply. Ultimately the entire excess supply is eliminated and equilibrium is restored.




---
Recommended Citation:

EXCESS SUPPLY, AmosWEB Encyclonomic WEB*pedia, http://www.AmosWEB.com, AmosWEB LLC, 2000-2019. [Accessed: August 24, 2019].
---
Check Out These Related Terms...

| | | | | | | |
---
Or For A Little Background...

| | | | | | | | | |
---
And For Further Study...

| | | | | | | |
---
Search Again?


PURPLE SMARPHIN
[What's This?]
Today, you are likely to spend a great deal of time strolling around a discount warehouse buying club looking to buy either a how-to book on home repairs or a large, stuffed kitty cat. Be on the lookout for defective microphones.
Your Complete Scope

A half gallon milk jug holds about $50 in pennies.

"An organization's ability to learn, and translate that learning into action rapidly, is the ultimate competitive business advantage. "

-- Jack Welch, General Electric chief executive

AP
Average Product

Tell us what you think about AmosWEB. Like what you see? Have suggestions for improvements? Let us know. Click the User Feedback link.