NDP: The abbreviation for net domestic product, which is the total market value of all final goods and services produced within the political boundaries of an economy during a given period of time, usually a year, after adjusting for the depreciation of capital. Net domestic product, usually abbreviated NDP, is one of five key National Income and Product Accounts measures reported regularly (every three months) by the Bureau of Economic Analysis. The other four measures are gross domestic product, national income, personal income, and disposable income. Net domestic product has largely replaced a comparable term, net national production.




























EXCESS SUPPLY:
A disequilibrium condition in a competitive market in which the quantity supplied is greater than the quantity demanded. Excess supply is another way to say surplus. It also goes by the common term of buyers' market. Excess supply is one of two disequilibrium states of the market. The other is excess demand (or shortage).
Excess supply emerges in a market when the quantity supplied by the sellers exceeds the quantity demanded by the buyers... at a given market price. Sellers are seeking to sell more of the good than buyers are willing to buy, hence there is an "extra" or "excess" amount of supply.

Excess Supply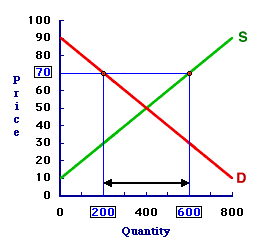 Excess supply is illustrated using the market for 8-track tapes displayed in this exhibit. This graph was generated with data from the 88th Annual Trackmania 8-Track Tape Collectors Convention at the Shady Valley Exposition Center.

The excess supply for 8-track tapes is indicated as the difference between the quantity supplied and the quantity demanded at a specific market price. In particular, at a 70-cent price, the quantity supplied is 600 tapes and the quantity demanded is 200 tapes. Sellers are willing and able to sell 400 tapes more than buyers are willing and able to buy. Hence this market has an excess supply of 400 tapes.

The result of this excess supply is a decrease in the market price. Because sellers are unable to sell as much of the good as they want, they are inclined to bid down the price. Of course, as the price falls, the quantity demanded increases and the quantity supplied decreases, both acting to reduce the amount of the excess supply. Ultimately the entire excess supply is eliminated and equilibrium is restored.




---
Recommended Citation:

EXCESS SUPPLY, AmosWEB Encyclonomic WEB*pedia, http://www.AmosWEB.com, AmosWEB LLC, 2000-2018. [Accessed: June 21, 2018].
---
Check Out These Related Terms...

| | | | | | | |
---
Or For A Little Background...

| | | | | | | | | |
---
And For Further Study...

| | | | | | | |
---
Search Again?


WHITE GULLIBON
[What's This?]
Today, you are likely to spend a great deal of time at the confiscated property police auction seeking to buy either a solid oak entertainment center or a remote controlled ceiling fan. Be on the lookout for jovial bank tellers.
Your Complete Scope

Potato chips were invented in 1853 by a irritated chef repeatedly seeking to appease the hard to please Cornelius Vanderbilt who demanded french fried potatoes that were thinner and crisper than normal.

"Anyone who has never made a mistake has never tried anything new. "

-- Albert Einstein, physicist

SLLN
Strong Law of Large Numbers

Tell us what you think about AmosWEB. Like what you see? Have suggestions for improvements? Let us know. Click the User Feedback link.