YIELD: The rate of return on a financial asset. In some simple cases, the yield on a financial asset, like commercial paper, corporate bond, or government security, is the asset's interest rate. However, as a more general rule, the yield includes both the interest earned from an asset plus any changes in the asset's price. Suppose, for example, that a $100,000 bond has a 10 percent interest rate, such that the holder receives $10,000 interest per year. If the price of the bond increases over the course of the year from $100,000 to $105,000, then the bond's yield is greater than 10 percent. It includes the $10,000 interest plus the $5,000 bump in the price, giving a yield of 15 percent. Because bonds and similar financial assets often have fixed interest payments, their prices and subsequently yields move up and down as economic conditions change.




























PRODUCTION POSSIBILITIES SCHEDULE:
A table of numbers that illustrates the production possibilities of an economy--the alternative combinations of two goods that an economy can produce with given resources and technology. A production possibilities schedule illustrates that the economy must give up the production of one good to produce another good--the basic economic notion of opportunity cost. A production possibilities schedule is also used to derive the highly useful production possibilities curve (or frontier).
Production possibilities is an analysis of the alternative combinations of two goods that an economy can produce with existing resources and technology in a given time period. This analysis is presented using a simple table, or schedule, of production alternatives.

Production Possibilities Schedule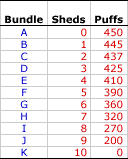 A simple, hypothetical production possibilities schedule for a simple, hypothetical economy is presented in this table. This particular production possibilities schedule illustrates the alternative combinations of two goods--crab puffs and storage sheds--that can be produced by the economy.
The Set Up
According to the assumptions of production possibilities analysis, the economy is using all resources with given technology to efficiently produce two goods--crab puffs and storage sheds. Crab puffs are delicious cocktail appetizers which have the obvious use of being eaten by hungry people, usually at parties. Storage sheds are small buildings used to store garden implements, lawn mowers, and bicycles.

This schedule presents the alternative combinations of crab puffs and storage sheds that the economy can produce. Production is technically efficient, using all existing resources, given existing technology.
Production Bundles
Bundles A through K represent 11 production alternatives for the economy. For example, the economy could choose to produce bundle D, which consists of 3 sheds and 425 dozen crab puffs or bundle G, which has 6 sheds and 360 dozen crab puffs. It could produce nothing but crab puffs, bundle A, or nothing but sheds, bundle K.

Each bundle represents the maximum production of one good given the quantity of the other good produced. If the economy produces 3 sheds, then it can produce AT MOST, 425 dozen crab puffs--BUT NO MORE. The economy does not have the resource and technological capabilities to produce 3 sheds and 450 dozen crab puffs.

The 11 alternatives presented in the table are ONLY 11 of an unlimited number of possibilities. The economy, for example, could produce an "in-between" bundle, such as 6.1 sheds and 359 dozen crab puffs.
A Tradeoff
Moving down the alphabet from bundle A to bundle K reveals an important pattern. The number of storage sheds produced increases from 0 to 10, but the quantity of crab puffs produced decreases from 450 dozen to 0.

In other words, there is a tradeoff between the production of sheds and crab puffs. As more sheds are produced, fewer crab puffs are produced.

The reason for this tradeoff can be traced to the basic assumptions underlying production possibilities analysis, especially fixed resources. Because resources are fixed, producing more of one good necessarily means producing less of the other. That is, to produce more sheds, the economy must forego the production of crab puffs.
Enter Opportunity Cost
This tradeoff indicates opportunity cost. Opportunity cost is the highest valued alternative foregone in the pursuit of an activity. The opportunity cost of producing storage sheds is the foregone production of crab puffs.

For example, the opportunity cost of producing the first shed is 5 dozen crab puffs. As the economy moves from bundle A to bundle B, the production of sheds increases from 0 to 1 and the production of crab puffs decreases from 450 dozen to 445 dozen. In order to produce the first shed, the economy must switch resources from crab puff production to shed production. As such, 5 dozen crab puffs are given up to produce the first shed.




---
Recommended Citation:

PRODUCTION POSSIBILITIES SCHEDULE, AmosWEB Encyclonomic WEB*pedia, http://www.AmosWEB.com, AmosWEB LLC, 2000-2021. [Accessed: April 17, 2021].
---
Check Out These Related Terms...

| | | | | | |
---
Or For A Little Background...

| | | | | |
---
And For Further Study...

| | | | | | | | | | | | | | | | |
---
Search Again?


BLUE PLACIDOLA
[What's This?]
Today, you are likely to spend a great deal of time at the confiscated property police auction looking to buy either decorative picture frames or storage boxes for your income tax returns. Be on the lookout for high interest rates.
Your Complete Scope

A thousand years before metal coins were developed, clay tablet "checks" were used as money by the Babylonians.

"Recipe for success. Study while others are sleeping; work while others are loafing, prepare while others are playing, and dream while others are wishing."

-- William A. Ward

MA(N)
A nth-order Moving Average Process

Tell us what you think about AmosWEB. Like what you see? Have suggestions for improvements? Let us know. Click the User Feedback link.