CARDINAL UTILITY: A measure of utility, or satisfaction derived from the consumption of goods and services, that can be measured using an absolute scale. Cardinal utility exists if the utility derived from consumption is measurable in the same way that other physical characteristics--height and weight--are measured using a scale that is comparable between people. There is little or no evidence to suggest that such measurement is possible and is not even needed for modern consumer demand theory and indifference curve analysis. Cardinal utility, however, is often employed as a convenient teaching device for discussing such concepts as marginal utility and utility maximization.




























SELLERS' MARKET:
A disequilibrium condition in a competitive market that has a shortage or excess demand. Because the quantity demanded is greater than the quantity supplied, sellers have the "upper hand" when negotiating. A sellers' market also goes by the more common term of shortage. The alternative to a sellers' market is a buyers' market, which has a surplus or excess supply.
A sellers' market exists because the quantity demanded by the buyers exceeds the quantity supplied by the sellers... at a given market price. In this situation, buyers seek to buy more of the good than sellers are willing to sell, hence sellers can pick and choose whom they sell to among prospective the buyers. Buyers are lucky to find a good to purchase.

Sellers' Market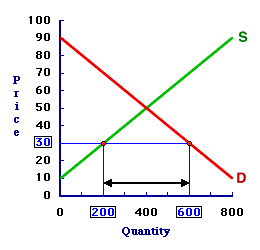 A sellers' market is illustrated by the market for 8-track tapes displayed in this exhibit. This graph was generated with data from the 88th Annual Trackmania 8-Track Tape Collectors Convention at the Shady Valley Exposition Center.

Sellers have the "upper hand" in this market due to the excess demand of 8-track tapes. This shortage is indicated as the difference between the quantity demanded and the quantity supplied at the designated market price. In particular, the 30-cent price generates a quantity demanded of 600 tapes and a quantity supplied of 200 tapes. Buyers are willing and able to buy 400 tapes more than sellers are willing and able to sell. This excess demand of 400 tapes is what gives the sellers the upper hand.

Note that a sellers' market does not mean the lack of competition among suppliers have given some sellers market control. A sellers' market is a competitive market that simply has a temporary imbalance between the quantity demanded by the buyers and the quantity supplied by the sellers. A change in the market price would eliminate the sellers' market, and possibly even create a buyers' market.




---
Recommended Citation:

SELLERS' MARKET, AmosWEB Encyclonomic WEB*pedia, http://www.AmosWEB.com, AmosWEB LLC, 2000-2023. [Accessed: February 9, 2023].
---
Check Out These Related Terms...

| | | | | | |
---
Or For A Little Background...

| | | | | | | | | |
---
And For Further Study...

| | | | | | | | |
---
Search Again?


RED AGGRESSERINE
[What's This?]
Today, you are likely to spend a great deal of time touring the new suburban shopping complex trying to buy either a hepa filter for your furnace or a wall poster commemorating next Thursday. Be on the lookout for vindictive digital clocks with revenge on their minds.
Your Complete Scope

More money is spent on gardening than on any other hobby.

"Do you want to be safe and good, or do you want to take a chance and be great?"

-- Jimmy Johnson, Football Coach

SEC
Securities and Exchange Commision

Tell us what you think about AmosWEB. Like what you see? Have suggestions for improvements? Let us know. Click the User Feedback link.