WEALTH PYRAMID: A handy technique that many get-rich-quick schemes use to transfer a little wealth from a lot of people into the overflowing pockets of a few. In works in this manner--A person or business establishes a multi-level pyramid of investors, employees, or "distributors." Each level is responsible for recruiting the next level beneath it. The trick is that each distributor at one level recruits several distributors into the next lower level in an ever-expanding fashion. Each recruit transfers a little, teeny, tiny bit of their own wealth to the next higher level. In that each higher level has fewer members, that little, teeny, tiny bit of wealth accumulates rapidly, making those at the top incredibly well-off.




























SELLERS' MARKET:
A disequilibrium condition in a competitive market that has a shortage or excess demand. Because the quantity demanded is greater than the quantity supplied, sellers have the "upper hand" when negotiating. A sellers' market also goes by the more common term of shortage. The alternative to a sellers' market is a buyers' market, which has a surplus or excess supply.
A sellers' market exists because the quantity demanded by the buyers exceeds the quantity supplied by the sellers... at a given market price. In this situation, buyers seek to buy more of the good than sellers are willing to sell, hence sellers can pick and choose whom they sell to among prospective the buyers. Buyers are lucky to find a good to purchase.

Sellers' Market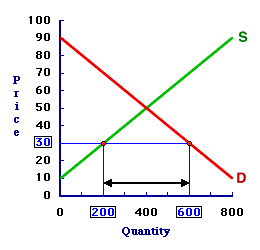 A sellers' market is illustrated by the market for 8-track tapes displayed in this exhibit. This graph was generated with data from the 88th Annual Trackmania 8-Track Tape Collectors Convention at the Shady Valley Exposition Center.

Sellers have the "upper hand" in this market due to the excess demand of 8-track tapes. This shortage is indicated as the difference between the quantity demanded and the quantity supplied at the designated market price. In particular, the 30-cent price generates a quantity demanded of 600 tapes and a quantity supplied of 200 tapes. Buyers are willing and able to buy 400 tapes more than sellers are willing and able to sell. This excess demand of 400 tapes is what gives the sellers the upper hand.

Note that a sellers' market does not mean the lack of competition among suppliers have given some sellers market control. A sellers' market is a competitive market that simply has a temporary imbalance between the quantity demanded by the buyers and the quantity supplied by the sellers. A change in the market price would eliminate the sellers' market, and possibly even create a buyers' market.




---
Recommended Citation:

SELLERS' MARKET, AmosWEB Encyclonomic WEB*pedia, http://www.AmosWEB.com, AmosWEB LLC, 2000-2018. [Accessed: January 22, 2018].
---
Check Out These Related Terms...

| | | | | | |
---
Or For A Little Background...

| | | | | | | | | |
---
And For Further Study...

| | | | | | | | |
---
Search Again?


PINK FADFLY
[What's This?]
Today, you are likely to spend a great deal of time looking for the new strip mall out on the highway hoping to buy either a birthday greeting card for your grandfather or a weathervane with a cow on top. Be on the lookout for infected paper cuts.
Your Complete Scope

Rosemary, long associated with remembrance, was worn as wreaths by students in ancient Greece during exams.

"Now is the only time there is. Make your now wow, your minutes miracles, and your days pay. Your life will have been magnificently lived and invested, and when you die you will have made a difference."

-- Mark Victor Hansen

JLE
Journal of Law and Economics

Tell us what you think about AmosWEB. Like what you see? Have suggestions for improvements? Let us know. Click the User Feedback link.