IN-KIND PAYMENT: A payment, usually in exchange for the productive efforts of resources, that takes the form of goods and services rather than the economy's standard monetary unit (that is, dollars). In other words, resource owners are compensated with a portion of the output that they helped to produce. The standard method of compensation, which is illustrated by the circular flow model, is for a firm to pay resource owners using money revenue received from selling its production. Hence most factor payments are monetary payments. However, in some circumstances firms and resource owners find it more convenient to use actual production for compensation, eliminating the middle sell-production-for-money step




























SUPPLY SPACE:
The area on or above a supply curve that indicates all possible price-quantity combinations acceptable to sellers. Buyers are willing and able to purchase any price-quantity combination that places them on or above the supply curve, but not above.
Supply space includes all combinations of price and quantity supplied that are acceptable to sellers. It includes every price down to the minimum supply price for a given quantity supplied. Alternatively, it includes every quantity up to the maximum quantity supplied for a given supply price.
Show Me The Space
Supply Space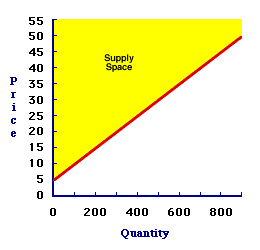 The exhibit at the right illustrates the supply space for stuffed Yellow Tarantulas, a cute and cuddly stuffed creature from the Wacky Willy Stuffed Amigos line of collectibles. Supply space is the highlighted area above (and including) the supply curve. This space contains all price-quantity combinations acceptable to sellers.
More Than A Curve
While the supply side of the market is usually represented by a supply curve, the selling process is often best reflected by the entire supply space. Buyers can operate anywhere within this space. It could be on the supply curve itself or far above the line.

The supply curve actually only represents the lower boundary of the willingness and ability to sell. Invoking the observation that people prefer more to less means that the supply price on the supply curve is the lowest price, the minimum price, that sellers are willing and able to accept. However, sellers are also willing and able to receive more that the supply price for a given quantity. In fact, the higher the better.

Suppose, for example, that sellers are faced with selling 400 Yellow Tarantulas. They are willing and able to accept $25 each, the supply price on the supply curve. Higher prices, however, are also acceptable. Is $35 each acceptable? Certainly. How about $45? No question. Are sellers willing and able to accept as much as $100,000? Without a doubt. All of these prices place the sellers in the supply space.




---
Recommended Citation:

SUPPLY SPACE, AmosWEB Encyclonomic WEB*pedia, http://www.AmosWEB.com, AmosWEB LLC, 2000-2018. [Accessed: September 21, 2018].
---
Check Out These Related Terms...

| | | | | | | | |
---
Or For A Little Background...

| | | | | | | | | | | | | | |
---
And For Further Study...

| | | | | | | |
---
Search Again?


PURPLE SMARPHIN
[What's This?]
Today, you are likely to spend a great deal of time at an auction trying to buy either storage boxes for your winter clothes or several magazines on time travel. Be on the lookout for crowded shopping malls.
Your Complete Scope

Natural gas has no odor. The smell is added artificially so that leaks can be detected.

"Man is born to live, not to prepare for life. "

-- Boris Pasternak, writer

SMSA
Standard Metropolitan Statistical Area

Tell us what you think about AmosWEB. Like what you see? Have suggestions for improvements? Let us know. Click the User Feedback link.