AGGREGATE EXPENDITURES: The total expenditures on gross domestic product undertaken in a given time period by the four sectors -- household, business, government, and foreign. Expenditures made by each of these sectors are specifically labeled consumption expenditures, investment expenditures, government purchases, and net exports. Aggregate expenditures (AE) are a cornerstone in the study of macroeconomics, playing critical roles in Keynesian economics, aggregate market analysis, and to a lesser degree, monetarism.




























SUPPLY SPACE:
The area on or above a supply curve that indicates all possible price-quantity combinations acceptable to sellers. Buyers are willing and able to purchase any price-quantity combination that places them on or above the supply curve, but not above.
Supply space includes all combinations of price and quantity supplied that are acceptable to sellers. It includes every price down to the minimum supply price for a given quantity supplied. Alternatively, it includes every quantity up to the maximum quantity supplied for a given supply price.
Show Me The Space
Supply Space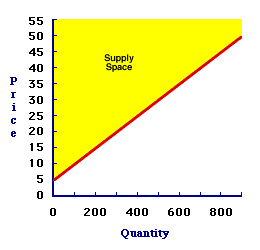 The exhibit at the right illustrates the supply space for stuffed Yellow Tarantulas, a cute and cuddly stuffed creature from the Wacky Willy Stuffed Amigos line of collectibles. Supply space is the highlighted area above (and including) the supply curve. This space contains all price-quantity combinations acceptable to sellers.
More Than A Curve
While the supply side of the market is usually represented by a supply curve, the selling process is often best reflected by the entire supply space. Buyers can operate anywhere within this space. It could be on the supply curve itself or far above the line.

The supply curve actually only represents the lower boundary of the willingness and ability to sell. Invoking the observation that people prefer more to less means that the supply price on the supply curve is the lowest price, the minimum price, that sellers are willing and able to accept. However, sellers are also willing and able to receive more that the supply price for a given quantity. In fact, the higher the better.

Suppose, for example, that sellers are faced with selling 400 Yellow Tarantulas. They are willing and able to accept $25 each, the supply price on the supply curve. Higher prices, however, are also acceptable. Is $35 each acceptable? Certainly. How about $45? No question. Are sellers willing and able to accept as much as $100,000? Without a doubt. All of these prices place the sellers in the supply space.




---
Recommended Citation:

SUPPLY SPACE, AmosWEB Encyclonomic WEB*pedia, http://www.AmosWEB.com, AmosWEB LLC, 2000-2020. [Accessed: September 28, 2020].
---
Check Out These Related Terms...

| | | | | | | | |
---
Or For A Little Background...

| | | | | | | | | | | | | | |
---
And For Further Study...

| | | | | | | |
---
Search Again?


BROWN PRAGMATOX
[What's This?]
Today, you are likely to spend a great deal of time going from convenience store to convenience store looking to buy either a how-to book on home repairs or a large, stuffed kitty cat. Be on the lookout for gnomes hiding in cypress trees.
Your Complete Scope

Al Capone's business card said he was a used furniture dealer.

"I do the best I know how, the very best I can, and I mean to keep doing so until the end. "

-- Abraham Lincoln, 16th US president

MP
Marginal Product

Tell us what you think about AmosWEB. Like what you see? Have suggestions for improvements? Let us know. Click the User Feedback link.