A POSTERIORI: A conclusion reached through logical reasoning based on facts and observations about the real world. This notion is closely related to the scientific verification of hypotheses and the identification of principles. A similar sounding, but opposite term is a prior, which is a unverified presumption made before an analysis is undertaken. For example, in the study of economics of crime you might assume, a priori, that people are basically "good", and conclude, a posteriori, that people are more likely to commit crimes when the threat of capture and conviction is lower.




























AGGREGATE DEMAND DECREASE, SHORT-RUN AGGREGATE MARKET:
A shock to the short-run aggregate market caused by a decrease in aggregate demand, resulting in and illustrated by a leftward shift of the aggregate demand curve. A decrease in aggregate demand in the short-run aggregate market results in a decrease in the price level and a decrease in real production. The level of real production resulting from the shock can be greater or less than full-employment real production.
While a wide range of specific aggregate demand determinants can cause a decrease in the four expenditures and thus a decrease in aggregate demand, the following rank among the more important:
A decrease in consumer confidence brought on by concerns that the economy might be headed for troubled times, which then prompt the household sector to spend a smaller proportion of disposable income on consumption.


Expectations of lower inflation rates in the near future that entices the household sector to decrease consumption expenditures in the present awaiting lower future prices.


A rise in interest rates associated with natural business-cycle activity or specifically induced by contractionary monetary policy from the Federal Reserve System that induces the household and business sectors to decrease consumption and investment expenditures.


Contractions in other nations that induce the foreign sector to decrease the purchase of domestic exports, thus decreasing net exports.


A decrease in purchases and/or an increase taxes by the federal government resulting from contractionary fiscal policy.


A decrease in state or local government purchases, and/or an increase in state or local taxes.
Demand Decrease
Short-Run Aggregate Market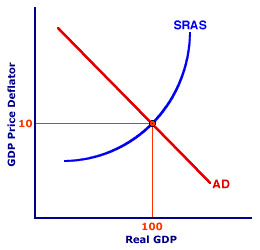 The short-run aggregate market presented in the graph to the right sets the stage for analyzing the effect of a decrease in aggregate demand resulting from a change in any aggregate demand determinant. The vertical axis measures the price level (GDP price deflator) and the horizontal axis measures real production (real GDP). The negatively-sloped curve, labeled AD, is the aggregate demand curve and the positively-sloped curve, labeled SRAS, is the short-run aggregate supply curve. The current short-run equilibrium, found at the intersection of the AD and SRAS curves, is a price level of 10 and real production of $100 billion.

Consider what happens to this short-run aggregate market with a decrease in aggregate demand. Suppose, for example, that after several years of business-cycle expansion, the household sector grows increasingly concerned that a contraction is on the horizon. Suspecting that contraction is about to begin, they spend less and save more, preparing for the troubled times ahead. This decline in consumer confidence prompts the household sector to decrease consumption expenditures. The result of this action is a leftward shift of the AD curve. Click the [AD Decrease] button to illustrate.

The result of this leftward AD curve shift is that a new short-run equilibrium is achieved at a lower price level (9) and a smaller amount of real production ($90 billion). This result is comparable to that for a standard market. A decrease in market demand results in a lower equilibrium price and a smaller equilibrium quantity. The key difference, of course, is that this "market" is the aggregate product market for the entire economy and not the market for a specific good.

A comparative static analysis of the original equilibrium and the new equilibrium is useful and important. However, it is also instructive to dissect the adjustment process.
First, the AD curve shifts leftward due to the decrease in consumption induced by a decline in consumer confidence. This decline in aggregate demand creates an imbalance in the aggregate market. At the existing price level (which has NOT yet changed), producers are willing and able to sell $100 billion worth of real production. Buyers, however, are now willing and able to purchase less, something like $80 billion worth of real production. This creates economy-wide product market surpluses.


Second, motivated by a build-up of inventories created by economy-wide product market surpluses, producers decrease production. In the short run they do so by reducing the employment of resources, especially labor. While resource prices do NOT decline enough to maintain full employment, the reduction in real production does lead to a decline in production cost which causes product prices and the price level to fall.


Third, with the falling price level, buyers are induced to increase aggregate expenditures. The combination of producers decreasing real production and buyers increasing aggregate expenditures act to reduce the existing economy-wide product market surpluses. In fact, as long as economy-wide product market surpluses persist producers decrease production, which causes the price level to fall, which increases aggregate expenditures. Eventually the falling real production and rising aggregate expenditures meet at the new short-run equilibrium price level of 9 and real production of $90 billion.

---
Recommended Citation:

AGGREGATE DEMAND DECREASE, SHORT-RUN AGGREGATE MARKET, AmosWEB Encyclonomic WEB*pedia, http://www.AmosWEB.com, AmosWEB LLC, 2000-2018. [Accessed: October 17, 2018].
---
Check Out These Related Terms...

| | | | | | | | |
---
Or For A Little Background...

| | | | | | | | | | | | | | | | |
---
And For Further Study...

| | | | | | | | | |
---
Search Again?


ORANGE REBELOON
[What's This?]
Today, you are likely to spend a great deal of time waiting for visits from door-to-door solicitors trying to buy either a weathervane with a cow on top or a box of multi-colored, plastic paper clips. Be on the lookout for attractive cable television service repair people.
Your Complete Scope

Sixty percent of big-firm executives said the cover letter is as important or more important than the resume itself when you're looking for a new job

"Do what you feel in your heart to be right ' for you'll be criticized anyway. You'll be damned if you do and damned if you don't. "

-- Eleanor Roosevelt, first lady

WPI
Wholesale Price Index

Tell us what you think about AmosWEB. Like what you see? Have suggestions for improvements? Let us know. Click the User Feedback link.