TAX: Any sort of forced or coerced payment to government. The primary reason government collects taxes is to get the revenue needed to finance public goods and pay administrative expenses. However, the more astute leaders of the first estate have recognized over the years that taxes have other effects, including--(1) redirecting resources from one good to another and (2) altering the total amount of production in the economy. As such, taxes have been used to correct market failures, equalize the income distribution, achieve efficiency, stabilize business cycles, and promote economic growth.




























AVERAGE REVENUE CURVE, MONOPOLISTIC COMPETITION:
A curve that graphically represents the relation between average revenue received by a monopolistically competitive firm for selling its output and the quantity of output sold. Because average revenue is essentially the price of a good, the average revenue curve is also the demand curve for a monopolistically competitive firm's output.
Monopolistic competition is a market structure with a large number of relatively small firms that sell similar but not identical products. Each firm is small relative to the overall size of the market such that it has some market control, but not much. In other words, it can sell a wide range of output at a narrow range of prices. This translates into a relatively elastic demand curve. If a monopolistically competitive firm wants to sell a larger quantity, then it must lower the price.

The average revenue curve reflects the degree of market control held by a firm. For a perfectly competitive firm with no market control, the average revenue curve is a horizontal line. For firms with market control, such as monopolistic competition, the average revenue curve is negatively-sloped.

Average Revenue Curve,
Sandwich Style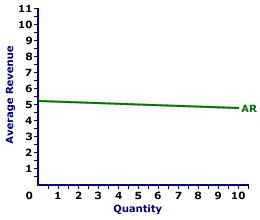 The average revenue curve for Manny Mustard is displayed in the exhibit to the right. Key to this curve is that Manny Mustard is a monopolistically competitive seller of sandwiches and thus faces a negatively-sloped demand curve. Larger quantities of output are only possible with lower prices.

The vertical axis measures average revenue and the horizontal axis measures the quantity of output (number of sandwiches). Although quantity on this particular graph stops at 10 sandwiches, it could go higher.

This curve indicates that if Manny Mustard sells 1 sandwich (at $5.20 per sandwich), then average revenue is $5.20 per sandwich. Alternatively, if he sells 10 sandwiches (at $4.75 per sandwich), then average revenue in is $4.75 per sandwich.

For Manny Mustard the average revenue curve is also the demand curve. The curve is negatively sloped, meaning that larger quantities of output result in less average revenue.

Although this average revenue curve, and preceding table of average revenue numbers, is based on the production activity of Manny Mustard, a well-known monopolistically competitive firm, they apply to any firm with market control. Monopoly and oligopoly firms that also face negatively-sloped demand curves generate comparable average revenues.




---
Recommended Citation:

AVERAGE REVENUE CURVE, MONOPOLISTIC COMPETITION, AmosWEB Encyclonomic WEB*pedia, http://www.AmosWEB.com, AmosWEB LLC, 2000-2020. [Accessed: September 29, 2020].
---
Check Out These Related Terms...

| | | | | | | | |
---
Or For A Little Background...

| | | | | | | | | | | |
---
And For Further Study...

| | | | | | | | |
---
Related Websites (Will Open in New Window)...

| | | |
---
Search Again?


GRAY SKITTERY
[What's This?]
Today, you are likely to spend a great deal of time visiting every yard sale in a 30-mile radius wanting to buy either a coffee cup commemorating the 1960 Presidential election or a how-to book on fixing your computer, with illustrations. Be on the lookout for pencil sharpeners with an attitude.
Your Complete Scope

Helping spur the U.S. industrial revolution, Thomas Edison patented nearly 1300 inventions, 300 of which came out of his Menlo Park "invention factory" during a four-year period.

"I believe that every right implies a responsibility, every opportunity, an obligation, every possession, a duty. "

-- John D. Rockefeller, industrialist

U
Unemployment

Tell us what you think about AmosWEB. Like what you see? Have suggestions for improvements? Let us know. Click the User Feedback link.