AGGREGATE DEMAND: The total (or aggregate) real expenditures on final goods and services produced in the domestic economy that buyers would willing and able to make at different price levels, during a given time period (usually a year). Aggregate demand (AD) is one half of the aggregate market analysis; the other half is aggregate supply. Aggregate demand, relates the economy's price level, measured by the GDP price deflator, and aggregate expenditures on domestic production, measured by real gross domestic product. The aggregate expenditures are consumption, investment, government purchases, and net exports made by the four macroeconomic sectors (household, business, government, and foreign).




























AVERAGE REVENUE CURVE, PERFECT COMPETITION:
A curve that graphically represents the relation between average revenue received by a perfectly competitive firm for selling its output and the quantity of output sold. Because average revenue is essentially the price of a good, the average revenue curve is also the demand curve for a perfectly competitive firm's output.
Perfect competition is a market structure with a large number of small firms, each selling identical goods. Perfectly competitive firms have perfect knowledge and perfect mobility into and out of the market. These conditions mean perfectly competitive firms are price takers, they have no market control and receive the going market price for all output sold.

The average revenue curve reflects the degree of market control held by a firm. For a perfectly competitive firm with no market control, the average revenue curve is a horizontal line. For firms with market control, especially monopoly, the average revenue curve is negatively-sloped.

Average Revenue Curve,
Zucchini Style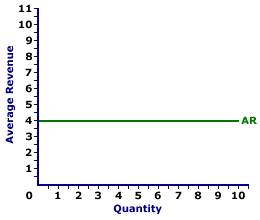 Average revenue is commonly represented by an average revenue curve, such as the one displayed in the exhibit to the right. This particular average revenue curve is that for zucchini sales by Phil the zucchini grower, a presumed perfectly competitive firm.

The vertical axis measures average revenue and the horizontal axis measures the quantity of output (pounds of zucchinis). Although quantity on this particular graph stops at 10 pounds of zucchinis, the nature of perfect competition indicates it could easily go higher.

This curve indicates that if Phil sells 1 pound of zucchinis, then his revenue per unit is $4. However, if he sells 10 pounds, then he also receives $4 of average revenue. Should he sell 100 pounds, then he moves well beyond the graph, but his average revenue remains at $4.

The average revenue curve is actually the demand curve for Phil's zucchinis. In fact, in the same way that average revenue is just another term for price, the average revenue curve is just another term for demand curve.




---
Recommended Citation:

AVERAGE REVENUE CURVE, PERFECT COMPETITION, AmosWEB Encyclonomic WEB*pedia, http://www.AmosWEB.com, AmosWEB LLC, 2000-2023. [Accessed: February 7, 2023].
---
Check Out These Related Terms...

| | | | | | | | |
---
Or For A Little Background...

| | | | | | | | | | | |
---
And For Further Study...

| | | | | | | | |
---
Related Websites (Will Open in New Window)...

| | | |
---
Search Again?


BEIGE MUNDORTLE
[What's This?]
Today, you are likely to spend a great deal of time touring the new suburban shopping complex looking to buy either decorative celebrity figurines or a flower arrangement with anything but tulips for your grandfather. Be on the lookout for deranged pelicans.
Your Complete Scope

A scripophilist is one who collects rare stock and bond certificates, usually from extinct companies.

"Everyone's got it in him, if he'll only make up his mind and stick at it. None of us is born with a stop-valve on his powers or with a set limit to his capacities. There's no limit possible to the expansion of each one of us."

-- Charles M. Schwab

ARCH
Autoregressive Conditional Heteroskedasticity

Tell us what you think about AmosWEB. Like what you see? Have suggestions for improvements? Let us know. Click the User Feedback link.