RESOURCES: The labor, capital, land, and entrepreneurship used by society to produce consumer satisfying goods and services. Land provides the basic raw materials--vegetation, animals, minerals, fossil fuels--that are inputs into the production of goods (natural resources). Labor is the resource that does the "hands on" work of transforming raw materials into goods. Capital is the comprehensive term for the vast array of tools, equipment, buildings, and vehicles used in production. Entrepreneurship is the resource that undertakes the risk of bringing the other resources together and initiating the production process.




























TOTAL REVENUE CURVE, PERFECT COMPETITION:
A curve that graphically represents the relation between the total revenue received by a perfectly competitive firm for selling its output and the quantity of output sold. It is combined with a perfectly competitive firm's total cost curve to determine economic profit and the profit maximizing level of production. The slope of the total revenue curve is marginal revenue.
Perfect competition is a market structure with a large number of small firms, each selling identical goods. Perfectly competitive firms have perfect knowledge and perfect mobility into and out of the market. These conditions mean perfectly competitive firms are price takers, they have no market control and receive the going market price for all output sold.

The total revenue curve reflects the degree of market control held by a firm. For a perfectly competitive firm with no market control, the total revenue curve is a straight line. For firms with more market control, especially monopoly, the total revenue curve is "hump shaped," increasing, reaching a peak, then declining. The slope of this total revenue curve is marginal revenue.

Total Revenue Curve,
Zucchini Style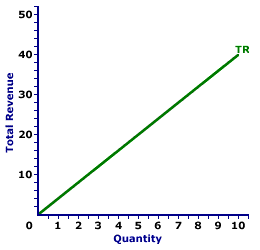 Total revenue is commonly represented by a total revenue curve, such as the one displayed in the exhibit to the right. This particular total revenue curve is that for zucchini sales by Phil the zucchini grower.

The vertical axis measures total revenue and the horizontal axis measures the quantity of output (pounds of zucchinis). Although quantity on this particular graph stops at 10 pounds of zucchinis, the nature of perfect competition indicates it could go higher.

This curve indicates that if Phil sells 1 pound of zucchinis, then he receives $4 of total revenue. Alternatively, if he sells 10 pounds, then he receives $40 of total revenue. Should he sell 100 pounds, then he would move well beyond the graph, with $400 of total revenue.

The "curve" is actually a "straight line" because Phil is a price taker in the zucchini market. He receives $4 for each pound of zucchinis sold whether he sells 1 pound or 10 pounds. The constant price is what makes Phil's total revenue curve a straight line.




---
Recommended Citation:

TOTAL REVENUE CURVE, PERFECT COMPETITION, AmosWEB Encyclonomic WEB*pedia, http://www.AmosWEB.com, AmosWEB LLC, 2000-2018. [Accessed: July 19, 2018].
---
Check Out These Related Terms...

| | | | | | | | |
---
Or For A Little Background...

| | | | | | | | |
---
And For Further Study...

| | | | | | | | |
---
Related Websites (Will Open in New Window)...

| | | |
---
Search Again?


GRAY SKITTERY
[What's This?]
Today, you are likely to spend a great deal of time wandering around the shopping mall hoping to buy either a wall poster commemorating the first day of winter or blue cotton balls. Be on the lookout for rusty deck screws.
Your Complete Scope

Francis Bacon (1561-1626), a champion of the scientific method, died when he caught a severe cold while attempting to preserve a chicken by filling it with snow.

"After climbing a great hill, one finds many more hills to climb. "

-- Nelson Mandela, president of South Africa

IAB
Inter-American Bank

Tell us what you think about AmosWEB. Like what you see? Have suggestions for improvements? Let us know. Click the User Feedback link.