SELLERS' EXPECTATIONS: One of the five supply determinants assumed constant when a supply curve is constructed, and that shift the supply curve when they change. The other four are resource prices, technology, other prices, and number of sellers. If sellers expect the future price will be greater, then they're likely to sell less today, to take advantage of the higher future price. Alternatively, if sellers expect a lower future price, then they're likely to sell more today, hoping to avoid the lower price. A higher future price induces an decrease in supply and a lower future price induces a increase in supply.




























ECONOMIC GROWTH, PRODUCTION POSSIBILITIES:
Economic growth is the process of increasing the economy's ability to produce goods and services. It is achieved by increasing the quantity or quality of resources. This process can be illustrated as an outward shift of the production possibilities curve.
Production possibilities, which analyzes the alternative combinations of two goods that an economy can produce with given resources and technology, indicates economic growth with an outward shift of the production possibilities curve. The general method of achieving economic growth is by increasing the quantities or qualities (Q and Q) of the resources.
The Growth Process
Shifting The Curve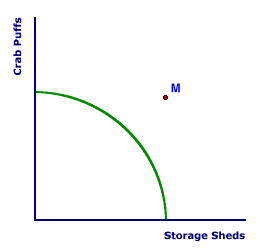 Economic growth is demonstrated by an outward shift of the production possibilities curve. The curve presented in the exhibit to the right shows the production possibilities tradeoff between crab puffs on the vertical axis and storage sheds on the horizontal axis.

With existing resources and technology, the economy can produce any combination of crab puffs and storage sheds up to or on the production possibilities curve. However, it cannot produce any combination of production beyond the curve, such as point M.

While point M cannot be reached today with existing resources and current technology, it can be reached tomorrow through economic growth. Growth expands the frontier, causing it to shift outward.

To illustrate the process of economic growth, click the [Growth] button. Point M can be reached when economic growth expands the frontier. Once the process is completed, point M lies ON the new production possibilities curve. Another success story achieved through the miracle of economic growth.
Resource Quantities
One of two ways to achieve economic growth is by increasing resource quantities. Three notable resource quantity options are:
Labor: The quantity of labor can be increased through:

Natural population growth.
Immigration from other nations.
More participation and fewer nonworkers.
Capital: The key to getting more capital is investment, giving up satisfaction today to get capital tomorrow.
Materials: The key to increasing the quantities of materials is through exploration. Exploration is best illustrated by digging or drilling into the Earth's crust in search of mineral or fossil fuel deposits.
Resource Qualities
The other way to achieve economic growth is to increase resource qualities. Two important resource quality options are:
Education: Education increases the quality of labor resources. Better educated workers are more productive workers. Education includes both formal, sitting-in-a-classroom learning and informal, on-the-job-training experience.


Technology: Technology is the knowledge and information society as a whole possesses concerning the production of goods and services. Better technology enables more production. Technology concerns all aspects of production, but it is often seen as an improvement in the quality of capital.

---
Recommended Citation:

ECONOMIC GROWTH, PRODUCTION POSSIBILITIES, AmosWEB Encyclonomic WEB*pedia, http://www.AmosWEB.com, AmosWEB LLC, 2000-2020. [Accessed: August 7, 2020].
---
Check Out These Related Terms...

| | | | | | | | |
---
Or For A Little Background...

| | | | | | | |
---
And For Further Study...

| | | | | | | | | | | | | | | | | | | | |
---
Search Again?


BLUE PLACIDOLA
[What's This?]
Today, you are likely to spend a great deal of time touring the new suburban shopping complex wanting to buy either super soft, super cuddly, stuffed animals or a large stuffed brown and white teddy bear. Be on the lookout for the happiest person in the room.
Your Complete Scope

John Maynard Keynes was born the same year Karl Marx died.

"No great performance ever came from holding back. "

-- Don Greene, motivational coach, former Green Beret

RBC
Real Business Cycle

Tell us what you think about AmosWEB. Like what you see? Have suggestions for improvements? Let us know. Click the User Feedback link.