ELASTICITY ALTERNATIVES, DEMAND: The price elasticity of demand can fall into one of five categories--perfectly elastic, relatively elastic, unit elastic, relatively inelastic, and perfectly inelastic--based on the coefficient of elasticity. These five elasticity alternatives form a continuum ranging from perfectly elastic at one end to perfectly inelastic at the other. The "middle" of this continuum is occupied by unit elastic. in that the "unit" and the two "perfectly" are really borders, boundaries, and endpoints, most of the real world action involving the price elasticity of demand takes place in the two "relatively" alternatives--relatively elastic and relatively inelastic.




























ECONOMIC GROWTH, PRODUCTION POSSIBILITIES:
Economic growth is the process of increasing the economy's ability to produce goods and services. It is achieved by increasing the quantity or quality of resources. This process can be illustrated as an outward shift of the production possibilities curve.
Production possibilities, which analyzes the alternative combinations of two goods that an economy can produce with given resources and technology, indicates economic growth with an outward shift of the production possibilities curve. The general method of achieving economic growth is by increasing the quantities or qualities (Q and Q) of the resources.
The Growth Process
Shifting The Curve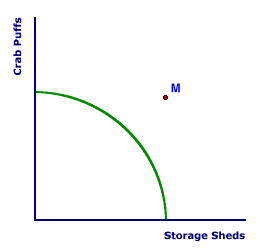 Economic growth is demonstrated by an outward shift of the production possibilities curve. The curve presented in the exhibit to the right shows the production possibilities tradeoff between crab puffs on the vertical axis and storage sheds on the horizontal axis.

With existing resources and technology, the economy can produce any combination of crab puffs and storage sheds up to or on the production possibilities curve. However, it cannot produce any combination of production beyond the curve, such as point M.

While point M cannot be reached today with existing resources and current technology, it can be reached tomorrow through economic growth. Growth expands the frontier, causing it to shift outward.

To illustrate the process of economic growth, click the [Growth] button. Point M can be reached when economic growth expands the frontier. Once the process is completed, point M lies ON the new production possibilities curve. Another success story achieved through the miracle of economic growth.
Resource Quantities
One of two ways to achieve economic growth is by increasing resource quantities. Three notable resource quantity options are:
Labor: The quantity of labor can be increased through:

Natural population growth.
Immigration from other nations.
More participation and fewer nonworkers.
Capital: The key to getting more capital is investment, giving up satisfaction today to get capital tomorrow.
Materials: The key to increasing the quantities of materials is through exploration. Exploration is best illustrated by digging or drilling into the Earth's crust in search of mineral or fossil fuel deposits.
Resource Qualities
The other way to achieve economic growth is to increase resource qualities. Two important resource quality options are:
Education: Education increases the quality of labor resources. Better educated workers are more productive workers. Education includes both formal, sitting-in-a-classroom learning and informal, on-the-job-training experience.


Technology: Technology is the knowledge and information society as a whole possesses concerning the production of goods and services. Better technology enables more production. Technology concerns all aspects of production, but it is often seen as an improvement in the quality of capital.

---
Recommended Citation:

ECONOMIC GROWTH, PRODUCTION POSSIBILITIES, AmosWEB Encyclonomic WEB*pedia, http://www.AmosWEB.com, AmosWEB LLC, 2000-2019. [Accessed: November 22, 2019].
---
Check Out These Related Terms...

| | | | | | | | |
---
Or For A Little Background...

| | | | | | | |
---
And For Further Study...

| | | | | | | | | | | | | | | | | | | | |
---
Search Again?


WHITE GULLIBON
[What's This?]
Today, you are likely to spend a great deal of time strolling through a department store trying to buy either a remote controlled World War I bi-plane or a wall poster commemorating Thor Heyerdahl's Pacific crossing aboard the Kon-Tiki. Be on the lookout for broken fingernail clippers.
Your Complete Scope

Post WWI induced hyperinflation in German in the early 1900s raised prices by 726 million times from 1918 to 1923.

"Genius is an infinite capacity for taking pains. "

-- Jane Ellis Hopkins, writer

CIFE
Cost, Insurance, Freight and Exchange

Tell us what you think about AmosWEB. Like what you see? Have suggestions for improvements? Let us know. Click the User Feedback link.