AGGREGATE EXPENDITURE DETERMINANT: A ceteris paribus factor that affects aggregate expenditures, but which is assumed constant when the aggregate expenditure line is constructed. Changes in any of the aggregate expenditures determinants cause the aggregate expenditure line to shift. While a wide variety of specific ceteris paribus factors can cause the aggregate expenditure line to shift, it's usually most convenient to group them into the four, broad expenditure categories -- consumption, investment, government purchases, and net exports. The reason is that changes in these expenditures are the direct cause of shifts in the aggregate expenditure line. If any determinant affects aggregate expenditures it MUST affect one of these four expenditures.




























INCOME CHANGE, UTILITY ANALYSIS:
A disruption of consumer equilibrium identified with utility analysis caused by changes in the buyers' income, which results in a change in the quantities of the goods consumed. The change in buyers' income alters the income constraint and forces a reevaluation of the rule of consumer equilibrium.
Utility analysis can be used to illustrate how a change in income alters the consumer equilibrium combination of goods consumed. With more or less income, a consumer is able to purchase larger or smaller quantities of the goods. This particular utility analysis of consumer equilibrium provides insight into the buyers' income demand determinant.
A Review of Consumer Equilibrium
Pretzels and Sundaes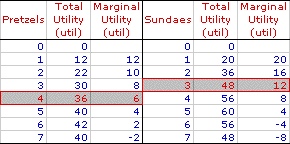 First, a review of consumer equilibrium is in order.
An Income Change
The key point of analysis is to pose the question: What occurs if Duncan has a change in income? In particular, suppose that Duncan has a boost in his snack budget from $20 to $26. How might the consumer equilibrium quantities of pretzels and hot fudge sundaes change?

To answer this question, the original consumer equilibrium must be reevaluated. If Duncan continues to consume 3 sundaes and 4 pretzels, he spends only $20, but his new budget constraint is now $26. Duncan has $6 extra dollars to spend. Given that sundaes are $4 and pretzels are $2, why not consume one more of each? Doing so uses up the extra $6. Click the [Income Change] button in the adjoining exhibit to highlight this new option.

Pretzels and Sundaes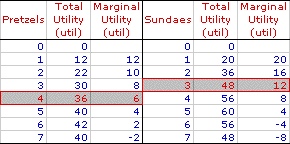 All Income Spent: The combination of 5 pretzels and 4 hot fudge sundaes seems to be an appropriate choice of the two goods. With this new income, Duncan spends $10 on pretzels and $16 on hot fudge sundaes, which now exhausts the larger amount of income.


Consumer Equilibrium: As it turns out, this new combination also satisfies the rule of consumer equilibrium and equates the marginal utility-price ratio for each good. The marginal utility of the last pretzel is 4 utils, giving a marginal utility-price ratio of 2 utils per dollar. The marginal utility of the last hot fudge sundae is 8 utils, also resulting in a marginal utility-price ratio of 2 utils per dollar. Consumer equilibrium is achieved.


Utility Maximization: And with this new consumer equilibrium, utility is now maximized at a total of 96 utils. The purchase of 5 pretzels generates 40 utils of satisfaction and the consumption of 4 hot fudge sundaes adds another 56 utils. No other combination of pretzels and hot fudge sundaes purchased with $26 of income generates a greater level of utility.
It looks as though the option of buying one more of each good generates the new consumer equilibrium. The increase in income results in an increase in the quantity of the goods consumed. This means that both goods, in this example, are normal goods.


---
Recommended Citation:

INCOME CHANGE, UTILITY ANALYSIS, AmosWEB Encyclonomic WEB*pedia, http://www.AmosWEB.com, AmosWEB LLC, 2000-2020. [Accessed: August 7, 2020].
---
Check Out These Related Terms...

| | |
---
Or For A Little Background...

| | | | | | | | | | |
---
And For Further Study...

| | | | | | | | | | | |
---
Search Again?


ORANGE REBELOON
[What's This?]
Today, you are likely to spend a great deal of time at a crowded estate auction seeking to buy either a pair of red goulashes with shiny buckles or a handcrafted bird feeder. Be on the lookout for small children selling products door-to-door.
Your Complete Scope

Much of the $15 million used by the United States to finance the Louisiana Purchase from France was borrowed from European banks.

"No great performance ever came from holding back. "

-- Don Greene, motivational coach, former Green Beret

AACCLA
Association of American Chambers of Commerce in Latin America

Tell us what you think about AmosWEB. Like what you see? Have suggestions for improvements? Let us know. Click the User Feedback link.