FOMC: The abbreviation for Federal Open Market Committee, which is a part of the Federal Reserve System that's specifically responsible for directing open market operations, and is more generally charged with guiding the nation's monetary policy. The FOMC includes the 7 members of the Fed's Board of Governors and 5 of the 12 presidents of Federal Reserve District Banks. The chairman of the Federal Reserve System is also the chairman of the FOMC. By design, the 7 members of the Board of Governors can always outvote the 5 district bank presidents. The FOMC meets every 45 days to evaluate monetary policy.




























INCOME CHANGE, UTILITY ANALYSIS:
A disruption of consumer equilibrium identified with utility analysis caused by changes in the buyers' income, which results in a change in the quantities of the goods consumed. The change in buyers' income alters the income constraint and forces a reevaluation of the rule of consumer equilibrium.
Utility analysis can be used to illustrate how a change in income alters the consumer equilibrium combination of goods consumed. With more or less income, a consumer is able to purchase larger or smaller quantities of the goods. This particular utility analysis of consumer equilibrium provides insight into the buyers' income demand determinant.
A Review of Consumer Equilibrium
Pretzels and Sundaes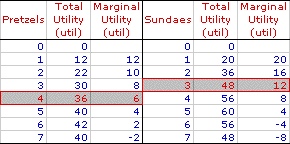 First, a review of consumer equilibrium is in order.
An Income Change
The key point of analysis is to pose the question: What occurs if Duncan has a change in income? In particular, suppose that Duncan has a boost in his snack budget from $20 to $26. How might the consumer equilibrium quantities of pretzels and hot fudge sundaes change?

To answer this question, the original consumer equilibrium must be reevaluated. If Duncan continues to consume 3 sundaes and 4 pretzels, he spends only $20, but his new budget constraint is now $26. Duncan has $6 extra dollars to spend. Given that sundaes are $4 and pretzels are $2, why not consume one more of each? Doing so uses up the extra $6. Click the [Income Change] button in the adjoining exhibit to highlight this new option.

Pretzels and Sundaes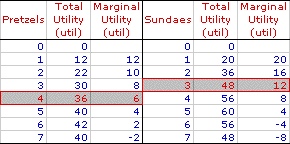 All Income Spent: The combination of 5 pretzels and 4 hot fudge sundaes seems to be an appropriate choice of the two goods. With this new income, Duncan spends $10 on pretzels and $16 on hot fudge sundaes, which now exhausts the larger amount of income.


Consumer Equilibrium: As it turns out, this new combination also satisfies the rule of consumer equilibrium and equates the marginal utility-price ratio for each good. The marginal utility of the last pretzel is 4 utils, giving a marginal utility-price ratio of 2 utils per dollar. The marginal utility of the last hot fudge sundae is 8 utils, also resulting in a marginal utility-price ratio of 2 utils per dollar. Consumer equilibrium is achieved.


Utility Maximization: And with this new consumer equilibrium, utility is now maximized at a total of 96 utils. The purchase of 5 pretzels generates 40 utils of satisfaction and the consumption of 4 hot fudge sundaes adds another 56 utils. No other combination of pretzels and hot fudge sundaes purchased with $26 of income generates a greater level of utility.
It looks as though the option of buying one more of each good generates the new consumer equilibrium. The increase in income results in an increase in the quantity of the goods consumed. This means that both goods, in this example, are normal goods.


---
Recommended Citation:

INCOME CHANGE, UTILITY ANALYSIS, AmosWEB Encyclonomic WEB*pedia, http://www.AmosWEB.com, AmosWEB LLC, 2000-2021. [Accessed: March 3, 2021].
---
Check Out These Related Terms...

| | |
---
Or For A Little Background...

| | | | | | | | | | |
---
And For Further Study...

| | | | | | | | | | | |
---
Search Again?


GREEN LOGIGUIN
[What's This?]
Today, you are likely to spend a great deal of time browsing about a thrift store trying to buy either a solid oak entertainment center or a remote controlled ceiling fan. Be on the lookout for crowded shopping malls.
Your Complete Scope

A scripophilist is one who collects rare stock and bond certificates, usually from extinct companies.

"Success is liking yourself, liking what you do, and liking how you do it."

-- Maya Angelou, Poet and Author

AVT
Ad Valorem Taxes

Tell us what you think about AmosWEB. Like what you see? Have suggestions for improvements? Let us know. Click the User Feedback link.