ADB: An abbreviation that stands for either the African Development Bank the Asian Development Bank. The African Development Bank is a regional multilateral development institution engaged in promoting the economic development and social progress of its member countries in Africa. The Bank, established in 1964, started functioning in 1966 with its Headquarters in Abidjan, Cote d' lvoire. The Bank borrows funds from the international money and capital markets. Its shareholders are the 53 countries in Africa as well as 24 countries in the Americas, Europe, and Asia. The Asian Development Bank is a multilateral development finance institution dedicated to reducing poverty in Asia and the Pacific that engages in mostly public sector lending for development purposes in its developing member countries. They pursue this goal by helping to improve the quality of people's lives providing loans and technical assistance for a broad range of development activities. ADB raises fund through bond issues on the world's capital markets but they also rely on members' contributions. The ADB was established in 1966 and has its headquarters in Manila, Philippines. As of September of 2003, the ADB had 58 member countries.




























MARGINAL FACTOR COST CURVE, PERFECT COMPETITION:
A curve that graphically represents the relation between marginal factor cost incurred by a perfectly competitive firm for hiring an input and the quantity of input employed. A profit-maximizing perfectly competitive firm hires the quantity of input found at the intersection of the marginal factor cost curve and marginal revenue product curve. The marginal factor cost curve for a perfectly competitive firm with no market control is horizontal.
Perfect competition is a market structure with a large number of small participants (buyers and sellers). The good exchanged in the market is identical, regardless of who sells or who buys. Participants have perfect knowledge and perfect mobility into and out of the market. These conditions mean perfectly competitive buyers are price takers, they have no market control and must pay the going market price for all good sold.

The marginal factor cost curve reflects the degree of market control held by a firm. For a perfectly competitive firm with no market control, the marginal factor cost curve is a horizontal line. For firms with more market control, especially monopsony, the marginal factor cost curve is positively sloped and lies above the average factor cost curve.

Marginal Factor Cost Curve,
Perfect Competition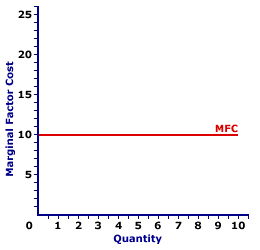 Marginal factor cost is commonly represented by a marginal factor cost curve, such as the one labeled MFC and displayed in the exhibit to the right. This particular marginal factor cost curve is that for labor hired by Maggie's Macrame Shoppe. Maggie's Macrame Shoppe is one of thousands of small retail stores in the greater Shady Valley metropolitan area that hires labor with identical skills. As such, Maggie pays the going wage for labor.

The vertical axis measures marginal factor cost and the horizontal axis measures the quantity of input (workers). Although quantity on this particular graph stops at 10 workers, the nature of perfect competition indicates it could easily go higher.

First and foremost, the marginal factor cost curve is horizontal at the going factor price of $10. This indicates that if Maggie hires the first worker, then her total factor cost increases by $10. Alternatively, if she hires the tenth worker, then her total factor cost increases by $10. Should she hire a hundredth worker, then she might move well beyond the graph, but her total factor cost increases by $10.

The "curve" is actually a "straight line" because Maggie is a price taker in the labor market. She pays $10 for each worker whether she hires 1 worker or 10 workers or 100 workers. Her extra factor cost of hiring an extra worker is always $10. The constant price is what makes Maggie's marginal factor cost curve a straight line, and which indicates that Maggie has no market control.




---
Recommended Citation:

MARGINAL FACTOR COST CURVE, PERFECT COMPETITION, AmosWEB Encyclonomic WEB*pedia, http://www.AmosWEB.com, AmosWEB LLC, 2000-2018. [Accessed: June 22, 2018].
---
Check Out These Related Terms...

| | | | | | | | | |
---
Or For A Little Background...

| | | | | | | | | | | |
---
And For Further Study...

| | | | | | | | |
---
Search Again?


YELLOW CHIPPEROON
[What's This?]
Today, you are likely to spend a great deal of time wandering around the downtown area wanting to buy either a coffee cup commemorating last Friday (you know why) or a wall poster commemorating the first day of spring. Be on the lookout for infected paper cuts.
Your Complete Scope

During the American Revolution, the price of corn rose 10,000 percent, the price of wheat 14,000 percent, the price of flour 15,000 percent, and the price of beef 33,000 percent.

"Whenever you fall, pick up something. "

-- Oswald Avery, scientist

BPEA
Brookings Papers on Economic Activity

Tell us what you think about AmosWEB. Like what you see? Have suggestions for improvements? Let us know. Click the User Feedback link.