NORTH AMERICAN FREE TRADE AGREEMENT: A economic, international trade treaty between the three nations that occupy the North American continent -- Canada, Mexico, and the United States -- that was launch in 1994. The North American Free Trade Agreement, commonly termed NAFTA, is designed to eliminate assorted trade barriers between Canada, Mexico, and the United States, including the reduction or elimination of many tariffs and nontariff barriers. While economic theory clearly indicates efficiency is enhanced by the reduction and elimination trade restrictions, NAFTA has been strongly opposed by those potentially harmed by more efficient trade, especially labor unions. However, NAFTA is merely one of several international trade agreements created over the years to reduce trade restrictions. Others include the General Agreement on Tariffs and Trade and the Maastricht Treaty.




























AVERAGE REVENUE CURVE, PERFECT COMPETITION:
A curve that graphically represents the relation between average revenue received by a perfectly competitive firm for selling its output and the quantity of output sold. Because average revenue is essentially the price of a good, the average revenue curve is also the demand curve for a perfectly competitive firm's output.
Perfect competition is a market structure with a large number of small firms, each selling identical goods. Perfectly competitive firms have perfect knowledge and perfect mobility into and out of the market. These conditions mean perfectly competitive firms are price takers, they have no market control and receive the going market price for all output sold.

The average revenue curve reflects the degree of market control held by a firm. For a perfectly competitive firm with no market control, the average revenue curve is a horizontal line. For firms with market control, especially monopoly, the average revenue curve is negatively-sloped.

Average Revenue Curve,
Zucchini Style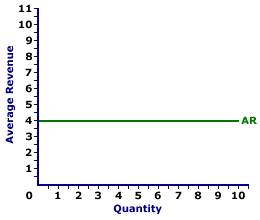 Average revenue is commonly represented by an average revenue curve, such as the one displayed in the exhibit to the right. This particular average revenue curve is that for zucchini sales by Phil the zucchini grower, a presumed perfectly competitive firm.

The vertical axis measures average revenue and the horizontal axis measures the quantity of output (pounds of zucchinis). Although quantity on this particular graph stops at 10 pounds of zucchinis, the nature of perfect competition indicates it could easily go higher.

This curve indicates that if Phil sells 1 pound of zucchinis, then his revenue per unit is $4. However, if he sells 10 pounds, then he also receives $4 of average revenue. Should he sell 100 pounds, then he moves well beyond the graph, but his average revenue remains at $4.

The average revenue curve is actually the demand curve for Phil's zucchinis. In fact, in the same way that average revenue is just another term for price, the average revenue curve is just another term for demand curve.




---
Recommended Citation:

AVERAGE REVENUE CURVE, PERFECT COMPETITION, AmosWEB Encyclonomic WEB*pedia, http://www.AmosWEB.com, AmosWEB LLC, 2000-2020. [Accessed: September 28, 2020].
---
Check Out These Related Terms...

| | | | | | | | |
---
Or For A Little Background...

| | | | | | | | | | | |
---
And For Further Study...

| | | | | | | | |
---
Related Websites (Will Open in New Window)...

| | | |
---
Search Again?


BROWN PRAGMATOX
[What's This?]
Today, you are likely to spend a great deal of time going from convenience store to convenience store looking to buy either a how-to book on home repairs or a large, stuffed kitty cat. Be on the lookout for gnomes hiding in cypress trees.
Your Complete Scope

The penny is the only coin minted by the U.S. government in which the "face" on the head looks to the right. All others face left.

"I do the best I know how, the very best I can, and I mean to keep doing so until the end. "

-- Abraham Lincoln, 16th US president

GNMA
Government National Mortgage Association

Tell us what you think about AmosWEB. Like what you see? Have suggestions for improvements? Let us know. Click the User Feedback link.