Today's Index
Yesterday's Index
270.0


Help us compile the AmosWEB Free Lunch Index. Tell us about your last lunch.

More About the Index

BANK ASSETS: What a bank owns, including loans, reserves, investment securities, and physical assets. Bank assets are typically listed on the left-hand side of a bank's balance sheet. Bank liabilities, what a bank owes, are listed on the right-hand side of a bank's balance sheet. Net worth is the difference between assets and liabilities. The largest asset category of most bank is loans, which generates interest revenue. A critical asset category used to maintain the safety of deposits is reserves (vault cash and Federal Reserve deposits).




























AVERAGE FIXED COST CURVE:
A curve that graphically represents the relation between average fixed cost incurred by a firm in the short-run product of a good or service and the quantity produced. This curve is constructed to capture the relation between average fixed cost and the level of output, holding other variables, like technology and resource prices, constant. The average fixed cost curve is one of three average curves. The other two are average total cost curve and average variable cost curve. A related curve is the marginal cost curve.
Average Fixed Cost Curve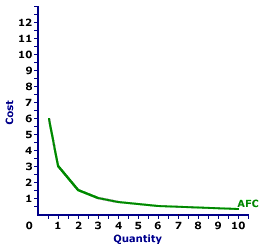 The average fixed cost curve is negatively sloped. Average fixed cost is relatively high at small quantities of output, then declines as production increases. The more production increases, the more average fixed cost declines. The reason behind this perpetual decline is that a given FIXED cost is spread over an increasingly larger quantity of output.

The graph to the right is the average fixed cost curve for the short-run production of Wacky Willy Stuffed Amigos (those cute and cuddly armadillos and tarantulas). The quantity of Stuffed Amigos production, measured on the horizontal axis, ranges from 0 to 10 and the average fixed cost incurred in the production of Stuffed Amigos, measured on the vertical axis, ranges from a high of $6 to a low of $0.30. Actually, if the quantity is extended beyond 10 Stuffed Amigos, then average fixed cost is less than $0.30. Or if the quantity is reduced below 1/2 unit, then average fixed cost is greater than $6. For the geometrically inclined, this average fixed cost curve is a rectangular hyperbola.

This declining average fixed cost curve is a major reason that the average total curve is negatively sloped for relatively small output quantities. In fact, firms that use a lot of fixed inputs relative to variable inputs, such that fixed cost is a substantial share of total cost, spend a lot of their production time in the decreasing portion of the average total cost curve. This has a big impact on how these firms operate. If average total cost declines with additional production, then a firm can profitably charge a lower price with increased output.




---
Recommended Citation:

AVERAGE FIXED COST CURVE, AmosWEB Encyclonomic WEB*pedia, http://www.AmosWEB.com, AmosWEB LLC, 2000-2015. [Accessed: January 31, 2015].
---
Check Out These Related Terms...

| | | | | | | | | | | | |
---
Or For A Little Background...

| | | | | | | | | | | |
---
And For Further Study...

| | | | | | | | | | | | | | | | | |
---
Search Again?


State of the ECONOMY

U.S. National Debt
January 20, 2015
$18,090,470,559,563.95
$56,560.07 per person: U.S. Debt Clock

BEIGE MUNDORTLE
[What's This?]
Today, you are likely to spend a great deal of time waiting for visits from door-to-door solicitors hoping to buy either a pair of leather sandals that won't cause blisters or clothing for your kitty cats. Be on the lookout for door-to-door salesmen.
Your Complete Scope

The New York Stock Exchange was established by a group of investors in New York City in 1817 under a buttonwood tree at the end of a little road named Wall Street.

"To understand a man, you must know his memories. The same is true of a nation."

-- Anthony Quayle, Actor

SAIF
Savings Association Insurance Fund

Tell us what you think about AmosWEB. Like what you see? Have suggestions for improvements? Let us know. Click the User Feedback link.