Today's Index
Yesterday's Index
278.4


Help us compile the AmosWEB Free Lunch Index. Tell us about your last lunch.

More About the Index

Best "change the topic" political answer?

SAVINGS ACCOUNTS: Accounts maintained by banks, savings and loan associations, credit unions, and mutual savings banks that pay interest but can not be used directly as money. These accounts, also termed transactions deposits, let customers set aside a portion of their liquid assets that COULD be used to make purchases. But to make those purchases, savings account balances must be transferred to checkable deposits or currency. However, this transference is easy enough that savings accounts are often termed near money. Savings accounts, as such constitute a sizeable portion of the M2 monetary aggregate.




























AVERAGE FIXED COST CURVE:
A curve that graphically represents the relation between average fixed cost incurred by a firm in the short-run product of a good or service and the quantity produced. This curve is constructed to capture the relation between average fixed cost and the level of output, holding other variables, like technology and resource prices, constant. The average fixed cost curve is one of three average curves. The other two are average total cost curve and average variable cost curve. A related curve is the marginal cost curve.
Average Fixed Cost Curve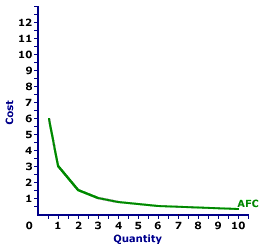 The average fixed cost curve is negatively sloped. Average fixed cost is relatively high at small quantities of output, then declines as production increases. The more production increases, the more average fixed cost declines. The reason behind this perpetual decline is that a given FIXED cost is spread over an increasingly larger quantity of output.

The graph to the right is the average fixed cost curve for the short-run production of Wacky Willy Stuffed Amigos (those cute and cuddly armadillos and tarantulas). The quantity of Stuffed Amigos production, measured on the horizontal axis, ranges from 0 to 10 and the average fixed cost incurred in the production of Stuffed Amigos, measured on the vertical axis, ranges from a high of $6 to a low of $0.30. Actually, if the quantity is extended beyond 10 Stuffed Amigos, then average fixed cost is less than $0.30. Or if the quantity is reduced below 1/2 unit, then average fixed cost is greater than $6. For the geometrically inclined, this average fixed cost curve is a rectangular hyperbola.

This declining average fixed cost curve is a major reason that the average total curve is negatively sloped for relatively small output quantities. In fact, firms that use a lot of fixed inputs relative to variable inputs, such that fixed cost is a substantial share of total cost, spend a lot of their production time in the decreasing portion of the average total cost curve. This has a big impact on how these firms operate. If average total cost declines with additional production, then a firm can profitably charge a lower price with increased output.




---
Recommended Citation:

AVERAGE FIXED COST CURVE, AmosWEB Encyclonomic WEB*pedia, http://www.AmosWEB.com, AmosWEB LLC, 2000-2016. [Accessed: October 20, 2016].
---
Check Out These Related Terms...

| | | | | | | | | | | | |
---
Or For A Little Background...

| | | | | | | | | | | |
---
And For Further Study...

| | | | | | | | | | | | | | | | | |
---
Search Again?


State of the ECONOMY

Producer Price Index Final Demand
November 2015
109.6
Up 0.3% from Oct. 2015 Soure: BLS.gov

GREEN LOGIGUIN
[What's This?]
Today, you are likely to spend a great deal of time at the confiscated property police auction wanting to buy either a flower arrangement with a lot of roses for your grandmother or a wall poster commemorating the first day of winter. Be on the lookout for infected paper cuts.
Your Complete Scope

Potato chips were invented in 1853 by a irritated chef repeatedly seeking to appease the hard to please Cornelius Vanderbilt who demanded french fried potatoes that were thinner and crisper than normal.

"I shall do less whenever I shall believe what I am doing hurts the cause and I shall do more whenever I shall believe doing more will help the cause. I shall try to correct errors when shown to be errors and I shall adopt new views so fast as they shall appear to be true views. "

-- Abraham Lincoln, 16th US president

ACRS
Accelerated Cost Recovery System

Tell us what you think about AmosWEB. Like what you see? Have suggestions for improvements? Let us know. Click the User Feedback link.