RETURNS TO SCALE: Changes in production the occurs when all resources are proportionately increased in the long run. Returns to scale answers the question: If labor, capital, and ALL other inputs increase by 10%, does output increase by more than 10%, less than 10%, or exactly 10%? These answers indicate that returns to scale can take one of three forms: increasing returns to scale, decreasing returns to scale, and constant returns to scale.




























DEMAND SPACE:
The area on or beneath a demand curve that indicates all possible price-quantity combinations acceptable to buyers. Buyers are willing and able to purchase any price-quantity combination that places them on or below the demand curve, but not above.
Demand space includes all combinations of price and quantity demanded that are acceptable to buyers. It includes every price up to the maximum demand price for a given quantity demanded. Alternatively, it includes every quantity up to the maximum quantity demanded for a given demand price.
Show Me The Space
Demand Space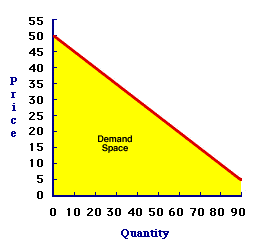 The exhibit at the right illustrates the demand space for stuffed Yellow Tarantulas, a cute and cuddly stuffed creature from the Wacky Willy Stuffed Amigos line of collectibles. Demand space is the highlighted area below (and including) the demand curve. This space contains all price-quantity combinations acceptable to buyers.
More Than A Curve
While the demand side of the market is usually represented by a demand curve, the buying process is often best reflected by the entire demand space. Buyers can operate anywhere within this space. It could be on the demand curve itself or far below the line.

The demand curve actually only represents the upper boundary of the willingness and ability to buy. Invoking the observation that people prefer more to less means that the demand price on the demand curve is the highest price, the maximum price, that buyers are willing and able to pay. However, buyers are also willing and able to pay less than the demand price for a given quantity. In fact, the lower the better.

Suppose, for example, that buyers are faced with purchasing 40 Yellow Tarantulas. They are willing and able to pay $30 each, the demand price on the demand curve. Lower prices, however, are also acceptable. Is $20 each acceptable? Certainly. How about $10? No question. Are buyers willing and able to pay as little as $0? Without a doubt. All of these prices place the buyers in the demand space.




---
Recommended Citation:

DEMAND SPACE, AmosWEB Encyclonomic WEB*pedia, http://www.AmosWEB.com, AmosWEB LLC, 2000-2023. [Accessed: January 28, 2023].
---
Check Out These Related Terms...

| | | | | | | | |
---
Or For A Little Background...

| | | | | | | | | | | | | |
---
And For Further Study...

| | | | | | | | | | | | | |
---
Search Again?


PURPLE SMARPHIN
[What's This?]
Today, you are likely to spend a great deal of time at a garage sale seeking to buy either a rechargeable flashlight or storage boxes for your computer software CDs. Be on the lookout for small children selling products door-to-door.
Your Complete Scope

North Carolina supplied all the domestic gold coined for currency by the U.S. Mint in Philadelphia until 1828.

"Even a mistake may turn out to be the one thing necessary to a worthwhile achievement."

-- Henry Ford

GDP
Gross Domestic Product

Tell us what you think about AmosWEB. Like what you see? Have suggestions for improvements? Let us know. Click the User Feedback link.