VERIFIED PRINCIPLE: A generally accepted, verified, fundamental law of nature that has been tested against and verified with real world data. A verified principle begins as an hypotheses implied by a theory, which is then compared against real world observations. If the hypothesis is consistently supported by data, it achieves the rank "verified" principle. This should be contrasted with unverifiable axiom.




























DEMAND SPACE:
The area on or beneath a demand curve that indicates all possible price-quantity combinations acceptable to buyers. Buyers are willing and able to purchase any price-quantity combination that places them on or below the demand curve, but not above.
Demand space includes all combinations of price and quantity demanded that are acceptable to buyers. It includes every price up to the maximum demand price for a given quantity demanded. Alternatively, it includes every quantity up to the maximum quantity demanded for a given demand price.
Show Me The Space
Demand Space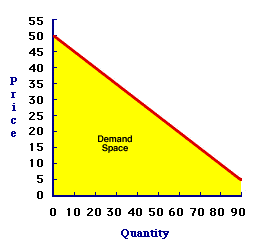 The exhibit at the right illustrates the demand space for stuffed Yellow Tarantulas, a cute and cuddly stuffed creature from the Wacky Willy Stuffed Amigos line of collectibles. Demand space is the highlighted area below (and including) the demand curve. This space contains all price-quantity combinations acceptable to buyers.
More Than A Curve
While the demand side of the market is usually represented by a demand curve, the buying process is often best reflected by the entire demand space. Buyers can operate anywhere within this space. It could be on the demand curve itself or far below the line.

The demand curve actually only represents the upper boundary of the willingness and ability to buy. Invoking the observation that people prefer more to less means that the demand price on the demand curve is the highest price, the maximum price, that buyers are willing and able to pay. However, buyers are also willing and able to pay less than the demand price for a given quantity. In fact, the lower the better.

Suppose, for example, that buyers are faced with purchasing 40 Yellow Tarantulas. They are willing and able to pay $30 each, the demand price on the demand curve. Lower prices, however, are also acceptable. Is $20 each acceptable? Certainly. How about $10? No question. Are buyers willing and able to pay as little as $0? Without a doubt. All of these prices place the buyers in the demand space.




---
Recommended Citation:

DEMAND SPACE, AmosWEB Encyclonomic WEB*pedia, http://www.AmosWEB.com, AmosWEB LLC, 2000-2018. [Accessed: April 20, 2018].
---
Check Out These Related Terms...

| | | | | | | | |
---
Or For A Little Background...

| | | | | | | | | | | | | |
---
And For Further Study...

| | | | | | | | | | | | | |
---
Search Again?


WHITE GULLIBON
[What's This?]
Today, you are likely to spend a great deal of time strolling through a department store looking to buy either a coffee cup commemorating the first day of winter or a video game player. Be on the lookout for neighborhood pets, especially belligerent parrots.
Your Complete Scope

The Dow Jones family of stock market price indexes began with a simple average of 11 stock prices in 1884.

"The past is a foreign country; they do things differently there."

-- Leslie Poles Hartley, Writer

LAN
Locally Asymptotically Normal

Tell us what you think about AmosWEB. Like what you see? Have suggestions for improvements? Let us know. Click the User Feedback link.