LEADING ECONOMIC INDICATOR: One of eleven economic statistics that tend to move up or down a few months before the expansions and contractions of the business cycle. These leading indicators are -- manufacturers new orders, an index of vendor performance, orders for plant and equipment, Standard & Poor's 500 index of stock prices, new building permits, durable goods manufacturers unfilled orders, the money supply, change in materials prices, average workweek in manufacturing, changes in business and consumer credit, a consumer confidence index, and initial claims for unemployment insurance. Leading indicators indicate what the aggregate economy is likely to do, business-cycle-wise, 3 to 12 months down the road. When leading indicators rise today, then the rest of the economy is likely to rise in the coming year. And when leading indicators decline, then the economy is likely to decline in 3 to 12 months.




























MONOPOLISTIC COMPETITION, LONG-RUN PRODUCTION ANALYSIS:
In the long run, a monopolistically competitive firm adjusts plant size, or the quantity of capital, to maximize long-run profit. In addition, the entry and exit of firms into and out of a monopolistically competitive market eliminates economic profit and guarantees that each monopolistically competitive firm earns nothing more or less than a normal profit.
Monopolistic competition is a market structure characterized by a large number of small firms producing similar but not identical products with relatively good resource mobility and extensive knowledge. These conditions mean that each firm has some degree of market control and faces a negatively-sloped demand curve. As such, the entry and exit of firms into and out of the industry eliminates economic profit. Moreover, the pursuit of profit maximization by individual firms facing negatively-sloped demand curves results in economic inefficiency.
Long-Run Adjustment
Long-Run Adjustment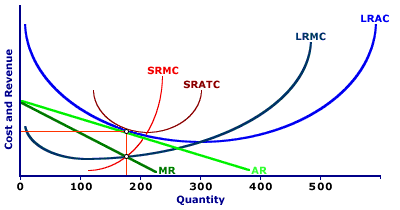 The two adjustments undertaken by a monopolistically competitive industry in the pursuit of long-run equilibrium are:
Firm Adjustment: Each firm in the monopolistically competitive industry adjusts short-run production and long-run plant size to achieve profit maximization. This adjustment entails producing the quantity that equates marginal revenue',500,400)">marginal revenue to short run marginal cost for a given plant size as well as selecting the plant size that equates marginal revenue to long-run marginal cost.


Industry Adjustment: Firms enter and exit a monopolistically competitive industry in response to economic profit and loss. If firms in the industry earn above-normal profit or receive economic profit, then other firms are induced to enter. If firms in the industry receive below-normal profit or incur economic loss, then existing firms are induced to exit. The entry and exit of firms causes the market price to change, which eliminates economic profit and loss, and leads to exactly normal profit.
Long-Run Equilibrium Conditions
The combination of firm and industry adjustment results in two equilibrium conditions. The profit-maximizing condition is that marginal revenue is equal to marginal cost (both short run and long run). The zero economic profit condition is that price (and average revenue) is equal to average cost (both short run and long run).
MR = MC = LRMC
P = AR = ATC = LRAC
With marginal revenue (MR) equal to marginal cost (MC and LRMC), each firm maximizes profit and has no reason to adjust its quantity of output or plant size. With price (P) equal to average cost (ATC and LRAC), each firm in the industry is earning only a normal profit. Economic profit is zero and there is no economic loss.

The six specific equilibrium conditions achieved by long-run equilibrium of monopolistically competitive industry are: (1) economic inefficiency (P &gt MC), (2) profit maximization (MR = MC), (3) market control (P = AR &gt MR), (4) breakeven output (P = AR = ATC), (5) excess capacity (ATC &gt MC), and (6) economies of scale (LRAC &gt LRMC).

These conditions are only satisfied by the tangency of the negatively-sloped demand (average revenue) curve facing a monopolistically competitive industry and the economies of scale portion of the long-run average cost curve. This means that a monopolistically competitive firm does not achieve long-run economic efficiency.

Key to these conditions is that they are NOT equal. Because price is not equal to marginal revenue in monopolistic competition average cost is not equal to marginal cost. The only production level in which average cost is equal to marginal cost (both short run and long run) is at the minimum efficient scale',500,400)">minimum efficient scale of production, the bottom of the long-run average cost curve. The only way to achieve this production level is the equality between price and marginal revenue. This equality is only achieved by perfect competition.




---
Recommended Citation:

MONOPOLISTIC COMPETITION, LONG-RUN PRODUCTION ANALYSIS, AmosWEB Encyclonomic WEB*pedia, http://www.AmosWEB.com, AmosWEB LLC, 2000-2018. [Accessed: January 23, 2018].
---
Check Out These Related Terms...

| | |
---
Or For A Little Background...

| | | | | | | | | |
---
And For Further Study...

| | | | | | | | | | | | |
---
Search Again?


RED AGGRESSERINE
[What's This?]
Today, you are likely to spend a great deal of time searching the newspaper want ads wanting to buy either a wall poster commemorating yesterday or pink cotton balls. Be on the lookout for florescent light bulbs that hum folk songs from the sixties.
Your Complete Scope

The portion of aggregate output U.S. citizens pay in taxes (30%) is less than the other six leading industrialized nations -- Britain, Canada, France, Germany, Italy, or Japan.

"Lead the life that will make you kindly and friendly to everyone about you, and you will be surprised what a happy life you will lead."

-- Charles M. Schwab

NELS
National Educational Longitudinal Survey

Tell us what you think about AmosWEB. Like what you see? Have suggestions for improvements? Let us know. Click the User Feedback link.