Today's Index
Yesterday's Index
260.2


Help us compile the AmosWEB Free Lunch Index. Tell us about your last lunch.

More About the Index

SAVINGS ACCOUNTS: Accounts maintained by banks, savings and loan associations, credit unions, and mutual savings banks that pay interest but can not be used directly as money. These accounts, also termed transactions deposits, let customers set aside a portion of their liquid assets that COULD be used to make purchases. But to make those purchases, savings account balances must be transferred to checkable deposits or currency. However, this transference is easy enough that savings accounts are often termed near money. Savings accounts, as such constitute a sizeable portion of the M2 monetary aggregate.




























UNIT ELASTIC:
An elasticity alternative in which changes in one variable (usually price) cause equal proportional changes in another variable (usually quantity). In other words, any change in price, whether big or small, triggers exactly the same percentage change in quantity. Quantity changes match price changes. This characterization of elasticity is most important for the price elasticity of demand and the price elasticity of supply. Unit elastic is one of five elasticity alternatives. The other four are perfectly elastic, perfectly inelastic, relatively elastic, and relatively inelastic.
| | |
| --- | --- |
| Perfectly Elastic | E = ∞ |
| Relatively Elastic | 1 &lt E &lt ∞ |
| Unit Elastic | E = 1 |
| Relatively Inelastic | 0 &lt E &lt 1 |
| Perfectly Inelastic | E = 0 |
Unit elastic means that any change in price causes an equal proportion change in quantity. Quantity changes are matched by price changes. More specifically, the percentage change in quantity is equal to the percentage change in price. Unit elastic demand occurs when buyers can choose from among a modest number of substitutes in the consumption of a good. In an analogous way, unit elastic supply occurs when sellers can choose among a modest number of substitutes in the production.

The chart to the right displays the five alternatives based on the coefficient of elasticity (E). In technical shorthand (which can be used by anyone with math symbols tattooed on their hands), the coefficient of elasticity (E) is given as:
E = 1
This technical shorthand works for both the price elasticity of demand and the price elasticity of supply, because the negative value of the price elasticity of demand is ignored. If the negative sign is not ignored, the price elasticity of demand is given by E = -1
Two Curves
Unit Elastic Curves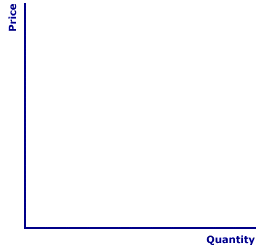 Unit elastic demand and supply are best understood and more easily seen with pictures. The blank graph presented here is ready and willing to display a unit elastic demand curve and a unit elastic supply curve. All this is needed is click the corresponding buttons labeled [Demand] and [Supply].

Notice that the unit elastic demand curve is, in fact, a curve (rather than a straight line), while the unit elastic supply curve is a straight line that originates from the origin. Both curves are configured such that a given percentage change in price is matched by an equal percentage change in quantity. The key for demand is that the slope of the curve is steep for high prices and small quantities and flat for low prices and large quantities. The key for supply is that the line goes through the origin. If the price is zero, so too is the quantity.
Examples Anyone?
While it would be useful to discuss a few examples of unit elastic demand and supply, such is not really possible. This is not due to any moral, religious, or philosophical objection to doing so. It is because that, unlike other elasticity alternatives, there is nothing particularly notable about goods that are unit elastic. Rather than a distinctive category, unit elastic is primarily a dividing line, a boundary, between elastic and inelastic. If the coefficient of elasticity is greater than one, then a good is elastic. If the coefficient of elasticity is less than one, then a good is inelastic. If the coefficient just happens to be exactly equal to one, then it is unit elastic. There is nothing intrinsic about a good in terms of either production or consumption that give rise to unit elastic.


---
Recommended Citation:

UNIT ELASTIC, AmosWEB Encyclonomic WEB*pedia, http://www.AmosWEB.com, AmosWEB LLC, 2000-2014. [Accessed: October 24, 2014].
---
Check Out These Related Terms...

| | | | | | | | | | | | | |
---
Or For A Little Background...

| | | | | | | | | | |
---
And For Further Study...

| | | | | | | |
---
Search Again?


State of the ECONOMY

Consumer Price Index Urban
August 2014
237.852
Up 1.7% from August 2013 Source: BLS

GREEN LOGIGUIN
[What's This?]
Today, you are likely to spend a great deal of time strolling around a discount warehouse buying club hoping to buy either several magazines on computer software or a T-shirt commemorating the second moon landing. Be on the lookout for jovial bank tellers.
Your Complete Scope

Lombard Street is London's equivalent of New York's Wall Street.

"Do not let what you cannot do interfere with what you can do. "

-- John Wooden, basketball coach

AER
American Economic Review

Tell us what you think about AmosWEB. Like what you see? Have suggestions for improvements? Let us know. Click the User Feedback link.